Volunteers from all over the area Wednesday packed the Lawrence Community Theatre, 1501 N.H., as United Way's 25th annual Wallace Galluzzi Volunteer Awards took place.
Twenty-five nominees were honored for their hours — and years — of hard work in the community, including Brian Daldorph, the 2010 recipient of the Volunteer of the Year Award.
"It was a surprise to me because I didn't even know I had been nominated," Daldorph said. "This is a great group of people doing great work in the community, and I am proud to be a part of it."
Daldorph leads the men's writing program at the Douglas County Jail. The program has become one of the most popular classes there, county jail leaders said. Daldorph takes writings from inmates and turns them into a published format for them to keep.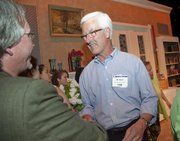 The evening also recognized four youth members of the community. Shai Jackson, 15, received the Youth Volunteer of the Year Award for her work with Big Brothers Big Sisters of Douglas County. Jackson began her work at 5 and has been a top fundraiser for Big Brothers Big Sisters. In 2009, Jackson raised more money than any other individual in Douglas County, reeling in $1,475.
Organizers say her work continues to impress.
"I was excited, and I was happy," said Jackson, who raised more than $1,000 again this year for Big Brothers Big Sisters.
The Lifetime Service Award, in its second year, went to Al Hack. For 15 years, Hack has worked for the Boys and Girls Club of Lawrence. He has served on the board and as a community advocate. He is now the club's board president.
"I latched onto the Boys and Girls Club about 15 years ago and I haven't let go; it's just great fun. I don't have any idea what the number of hours are, but they're all well spent and they're a wonderful way to spend your time," Hack said. "It's not as important to me as it is trying to get that message out to other people who have time. Maybe they don't have resources to donate, but they certainly have time, to be sure that they volunteer."
Hack challenged everyone in attendance Wednesday night to take one person in and mentor them, teaching them how to volunteer and how it can benefit the Lawrence and Douglas County community.
Copyright 2018 The Lawrence Journal-World. All rights reserved. This material may not be published, broadcast, rewritten or redistributed. We strive to uphold our values for every story published.