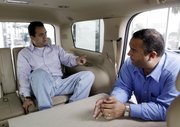 Cincinnati — Buy American? That's suddenly a good idea again to more car buyers.
Toyota's safety problems and a buffed-up lineup of offerings from Detroit's Big 3 are rubbing the tarnish off car buyers' perceptions of U.S. models.
An Associated Press-GfK Poll shows that 38 percent favor U.S. vehicles while 33 percent prefer Asian brands, a significant improvement for U.S. automakers compared to four years ago.
"Really, the American car industry has opened its eyes," said Jose Nunez, 24, a customer at Planet Dodge Chrysler Jeep in Miami on Wednesday. "And it's really giving the people what they want, what they need."
The findings provide fuel for U.S. automakers who are getting sales and swagger back after a bleak period of huge financial losses, job cuts and market share declines. General Motors Co. and Chrysler LLC needed government help just to survive.
Watching an iconic American industry beaten down amid the Great Recession may be one reason Americans are giving U.S. automakers a closer look.
"I think Americans are beginning to realize the significance of America's auto industry to its history and to its future, and we're a bit more sensitive now to what will be its fate," said John Heitmann, an auto historian at the University of Dayton.
General Motors CEO Ed Whitacre noted the optimism Wednesday at a factory in Kansas City, Kan., where he announced that GM was paying $8.1 billion in U.S. and Canadian government loans early. He also announced that GM will pump $257 million into expanded production at the Kansas plant and another in Michigan.
Whitacre said the company is "designing, building and selling the best cars and trucks General Motors has produced ever."
Peggy Hyatt, a 52-year-old worker at the Kansas City plant who moved there after being laid off in Georgia, echoed that sentiment. "We may have had hard times before, but now we're coming back," Hyatt said.
The AP-GfK Poll was conducted in March, as Toyota reeled from the recall of more than 8 million vehicles around the globe and allegations that it responded sluggishly to safety concerns.
In a December 2006 AP-AOL poll, 46 percent said Asian countries made superior cars, while just 29 percent said American automakers did.
In both AP polls, Japan — home to brands including Toyota, Honda and Nissan — was by far the dominant Asian nation volunteered as producing the best cars. European vehicles were viewed about the same in both polls; 15 percent of respondents last month, and 17 percent of those in 2006, called them top quality.
The safety controversy is hurting Toyota's U.S. market share, which dropped from 16.3 percent in the first quarter of 2009 to 15.2 percent for the same period this year, according to industry sales tracking firm Autodata Corp.
Analysts say Ford Motor Co. got an extra boost by not accepting a taxpayer bailout or going into bankruptcy as GM and Chrysler did. Ford's U.S. sales jumped 37 percent in the first three months of this year, and its market share saw its biggest increase since 1977.
The AP-GfK Poll was conducted March 3-8 by GfK Roper Public Affairs and Media. It involved interviews with 1,002 adults conducted by landline and cellular telephones. The margin of sampling error was plus or minus 4.2 percentage points.
Copyright 2018 The Associated Press. All rights reserved. This material may not be published, broadcast, rewritten or redistributed. We strive to uphold our values for every story published.