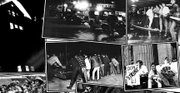 Forty years ago today, the Kansas Union burned. What followed was a year of violence and destruction not seen since Quantrill's Raid. While the unrest has long since dissipated, the memories remain.
The unrest and violence that swept through Lawrence in 1970 helped shape the town and the people who lived here.
In the months that followed, the President's Commission on Campus Unrest visited Kansas University. And the Menninger Foundation, based at that time in Topeka, conducted a study on Lawrence police relations with the community.
In fall 1970 and continuing for the next few years, meetings were held, committees were formed and recommendations were made. In 1972, the city created the Human Relations Department to address discrimination complaints and enforce civil rights laws.
Laurence Chalmers remained at the helm of Kansas University for another two years. And the protests diminished with the end of the Vietnam War in 1975.
Over time, Lawrence became more open and tolerant, said Rusty Monhollon, who researched the era for his book "This is America? The Sixties in Lawrence, Kansas."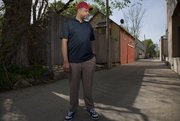 "Was it a direct result of what happened? I can't say for sure. But I believe there is at least some connection with the summer of violence," Monhollon said.
For many Lawrence residents, those events 40 years ago linger in who they are today and how they see the world. And for others, they have had a much larger effect, redirecting their lives and sending them down unexpected paths. We share a few of their stories.
Photo Gallery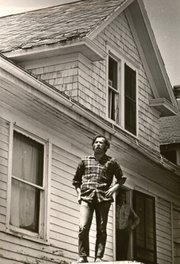 A hot, deadly summer
In the summer of 1970, the protests turned fatal as two young men died just four days apart. Both were shot by the Lawrence police.
Stephen 'Jere' Dowdell
It had been several years since Stephen "Jere" Dowdell walked down the alley at Ninth and Rhode Island, the spot where his brother was shot and killed by a police officer 40 years ago.
"It feels a little strange, but it doesn't bother me too much anymore," he said earlier this month.
When 19-year-old Rick "Tiger" Dowdell died on July 16, 1970, it ignited five days of violence throughout Lawrence.
Stephen Dowdell and other black militants shot at police cars — in retaliation for what Stephen Dowdell considered then to be his brother's murder.
"That was where my head was at the time. As I got into church and started reading the Bible, I just let that go. And, I let the hatred go, too. There was a time that I hated white people," Dowdell said. "But now I don't. And, I will never go back to that state where I would have to hate someone."
For years, Dowdell and his brothers were angry over Rick Dowdell's death and the events that surrounded it.
Today, Dowdell, a deacon in the Ninth Street Baptist Church, talks openly about his past in hopes of inspiring other lost souls.
Once or twice a year, he visits his brother's grave at Oak Hill Cemetery. The youngest of seven brothers, Rick was the toughest of all of them, Dowdell said. Hence, the nickname Tiger. He was also an outgoing student who made good grades. In the end, Dowdell believes his brother died for a cause.
"I believe we made some progress here. Maybe it is not as good as it could be, but it is better than it was," Dowdell said.
About this series
By the time 1970 ended, Lawrence would experience many acts of violence, protest and unrest. A three-day series explores that stormy year.
Tuesday: The Kansas Union burning.
Wednesday: Strained race relations.
Today: How 1970 shaped the city and its future.
Verner Newman III and Jesse Milan
"I learned who my friends were and who wasn't. I learned not to trust hardly anyone," said Verner Newman III, who was the only black police officer who didn't leave Lawrence when the violence escalated in 1970.
During those times, Newman remembers sitting outside his house with a shotgun and pistol from 4 a.m. until 8 a.m. waiting for black militants and radicals to attack his house.
Jesse Milan, the first black teacher in the integrated Lawrence school system, has similar memories. He, too, opposed the violence that was being used to advance the civil rights movement.
By 1972, Milan said he had felt so much "heat" from both right-wing extremists and the Black Power Movement that he had to leave town.
"At my house on 10th and Alabama, I used to sit there at night with a rifle in my hand protecting my family. And I said, 'This is not going to work; I am going back to Kansas City.' And I started working for the federal government," Milan said.
Photo Gallery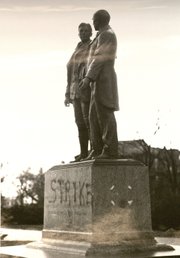 1970, a year that ends in violence
As 1970 comes to an end, the violence continues. One student is shot on campus and a time bomb goes off at KU's computer center.
Del Shankel
Del Shankel has a lot of good memories from that time, when he said despite the violence, students were still getting "wonderful educations" at KU.
In 1970, Shankel was the associate dean of the college of liberal arts and sciences and a professor of microbiology. He would later take on a number of top-level administrative roles at the university, including two turns as interim chancellor.
"I think it was nice to see students so actively involved in society's problems," Shankel said. "My generation of college students were pretty inactive and mainly concerned about getting out of school and finding a job."
After 1970, student and faculty participation in student government increased. Recently, Shankel said he has seen a resurgence in idealism among young people, with students taking on environmental and social causes.
"That, I think, is good," he said.
Andy Benton
Andy Benton says that today he is the president of Pepperdine University because of events in 1970. And it is a very tangible path that led from Lawrence to Pepperdine, a school of 7,700 students in Malibu, Calif.
In the months following the tumultuous spring semester of 1970, David Davenport, a Stanford University student, was writing a paper about the racial strife in Lawrence. He wanted to interview Benton, who had been Lawrence High School's student body president.
The two talked, developed a friendship and stayed in touch over the next decade. In 1984 Davenport, then at Pepperdine University, asked Benton whether he wanted to come work for him. Davenport soon would become president of the school. When he retired in 2000, Benton was picked as his successor.
Of course, 1970 shaped Benton in other ways. He's a better leader for it, saying that he grew as a person — even though he regrets that time.
He continues to use the lessons he learned then, such as on Sept. 11 when Middle Eastern parents were pulling their children out school for fear of retaliation.
"If I ignore them, if I don't make them feel welcomed, if I don't give them an avenue of communication, if not redress, then tension could become something more," Benton said.
Craig Weinaug
If it hadn't been for 1970, Craig Weinaug said he probably would be an engineering professor at Kansas University rather than being Douglas County administrator.
In spring 1970, Weinaug was senior class representative to the student body executive committee and the only white in the school's Black America Club.
It was in that club that Weinaug remembers having a conversation with a black classmate, who said her actions reflected on her entire race, not just on her. At first he didn't understand.
"Then finally the light went on about halfway through the year," he said. "It is different for a person who is a minority or of color or who happens to be in a wheelchair with disabilities. … When they do something, it does reflect on everyone else in the category. And that is part of their identity more than being white is part of my identity."
It's a realization that he carried with him into county government. Those years also gave Weinaug a better understanding of the disaffected and special interests groups that he encounters as county administrator.
And, he also believes that 1970 helped make Lawrence what it is today — an island of liberalism in the Midwest, a community that was the first in Kansas to prohibit discrimination based on sexual orientation and ban smoking in public.
"It doesn't surprise me that some of those issues come up first in Lawrence," Weinaug said.
Copyright 2018 The Lawrence Journal-World. All rights reserved. This material may not be published, broadcast, rewritten or redistributed. We strive to uphold our values for every story published.