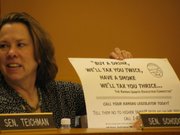 Topeka — A Senate committee Wednesday recommended a budget that would require an estimated $500 million in additional revenue but then failed to approve the taxes to support it.
After three days of committee meetings, and hours of private conversations between legislators, Ways and Means Chairman Jay Emler, R-Lindsborg, abruptly ended the meeting, announcing, "We are adjourned until the 28th." That is the first day of the Legislature's wrap-up session.
Both Emler and vice chair Sen. John Vratil, R-Leawood, refused to comment further.
The committee breakdown is indicative of the tough political wrangling ahead for legislators as they deal with an estimated $500 million shortfall after the state budget has already been cut by nearly $1 billion.
Senate Democratic Leader Anthony Hensley of Topeka said the committee results were disappointing. "If this committee can't get it done, it can't get done," Hensley said.
Ways and Means member Sen. Jean Schodorf, R-Wichita, said the budget hole is too deep to fill only with a tax increase. "I think we have to start all over," she said, adding that more cuts are needed.
Schodorf said she is hearing from constituents that they can accept a one-cent increase in the state sales tax, but that when other levies are added to the mix, the tax package loses traction.
Emler had the staff prepare a proposal to increase the state sales, liquor, cigarette and tobacco taxes.
But Democrats say they want a tax increase that relies less on a sales tax increase and includes a new state income tax bracket for high-wager earners. Hensley that would be more fair.
Even so, Hensley said it wasn't the tax deliberations that was holding up the committee, but some hard feelings over earlier votes on budget provisions.
Meanwhile a coalition, composed of education and social service groups, is advocating a tax and mend policy, saying more revenue is needed to repair deep budget cuts.
"The scenario before us today is not pretty," said a statement from Kansans for Quality Communities. "An increase in taxes is appropriate and possible," it said.
Gov. Mark Parkinson has proposed a temporary one-cent increase in the state sales tax from 5.3 cents per dollar to 6.3 cents per dollar, and a 55-cent per pack increase in the cigarette tax.
Parkinson says further cuts will inflict permanent damage on vital state services.
The coalition agreed and noted that 65 Kansans with disabilities have died while on state waiting lists for in-home services; 13,000 pregnant women have lost dental services under Medicaid cuts; and hundreds of teachers and support personnel will get non-renewal notices. "This is not trimming the fat; this is cutting the bone, amputating a limb," the coalition said.
Copyright 2018 The Lawrence Journal-World. All rights reserved. This material may not be published, broadcast, rewritten or redistributed. We strive to uphold our values for every story published.