How bad a stretch has it been for Lawrence High's girls soccer team?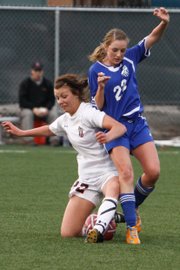 "Three losses in four days, three shutouts," Lions' coach Matt Anderson said. "Yeah, it's been a rough week."
Washburn Rural blanked Lawrence, 4-0, on Friday night at the LHS facility to extend the Lions' losing streak to five.
The latest defeat pretty much followed a familiar pattern. The Lions were tough for a half, holding the Junior Blues scoreless, but then they wilted in the second half.
On Thursday night at Olathe Northwest, the Lions trailed 1-0 at the break, then the Ravens erupted for five second-half goals.
"I have a great group of kids," Anderson said. "We had a meeting after the Northwest game and talked about dealing with adversity, and we came out tonight with a great attitude and great energy."
But you can't win if you can't score, and the Lions' offense has been spinning its wheels. Against Rural, Lawrence managed only a handful of shots on goal, and none caused the Junior Blues' netminder any anxious moments.
Rural wasted little time snapping the scoreless deadlock. Just 23 seconds after intermission, Braydi Frederick drilled a shot past goalkeeper Matty Casad on a breakaway.
"That's part of our dossier," Anderson said of the defensive breakdown. "And that first goal seems to open the floodgates."
Four and a half minutes later, Rural scored again. Goal No. 3 came 10 minutes after that. Rural's last score came at the 6:42 mark when Casad inadvertently fumbled a Rural shot into goal.
The Lions (2-6) have only one game scheduled next week — a visit by Olathe South on Tuesday. That game, incidentally, will begin at 5 p.m. instead of the usual 7 p.m. start.
"It's hard to realize we are doing some things better," Anderson said, "but our schedule is phenomenal. Every team we play, we could lose to."
Five of the Lions' last seven games will be at home.
Copyright 2018 The Lawrence Journal-World. All rights reserved. This material may not be published, broadcast, rewritten or redistributed. We strive to uphold our values for every story published.