It was a battle to see what team could last the longest. Call it an Ironman match.
A resilient Lawrence High baseball team finally fell in the 12th inning, 7-5, to Topeka Hayden in a game that took about three-and-a-half hours to complete on Friday in the River City Baseball Festival at LHS.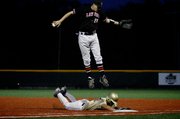 "You hate to lose that game," Lawrence coach Brad Stoll said. "I was excited to get out here tonight after that embarrassing loss (16-3 to Lee's Summit West) the night before. I'm not embarrassed tonight. I'm proud. I'm disappointed, but I'm not embarrassed at all."
Hayden began the 12th inning with a walk, a single, and a batter was hit by a pitch. With the bases loaded, Jordan Mullin smacked the winning single to left field that plated two runs and made it 7-5.
"To their credit, they hit the ball hard twice to get themselves in that position," Stoll said of Hayden. "That's a good team, man. They're the defending (Class) 4A state champs. They showed a lot of grit. I thought both teams played hard all night. I'm proud of our team. I thought there were a lot of kids that gave everything they had."
Ben Wyatt pitched the final inning and took the loss for LHS, which fell to 3-5.
Wyatt appeared to lead an LHS rally at the plate in the bottom of the 12th when he beat out an infield single, then advanced to second base on a throwing error. However, senior Chase McElhaney and sophomore Matt Sutliff both flew out to end the threat and the game.
Patrick Schmidtlein pitched the final four innings and earned the victory for Hayden.
The fact that the game went to extra innings occurred in a rather bizarre sequence.
Lawrence High trailed, 4-3, in the bottom of the seventh when Shane Willoughby came to the plate with the bases loaded and one out. The freshman third baseman popped it up to second base, but Hayden's infielder dropped the ball. The infield fly rule gave the Wildcats their second out, but an alert McElhaney noticed the ball on the ground and broke to the plate from third base. The ball was live. McElhaney slid home safely to the delight of the home fans.
"That's all on Chase. I didn't tell him to go (to home plate)," Stoll said. "He read it and went. That was great base running on his part. I'm proud of him because that kept us in it."
With a chance to win it in regulation, Ross Johnson flew out to send it to extras. Johnson had an effective day at the plate, going 3-for-6 in the two-spot in the lineup with a double and two RBIs.
Lawrence High will play its final game in the River City Festival at 4:30 p.m. today against Blue Valley Northwest at Hoglund Ballpark. Senior Albert Minnis is scheduled to get the start.
"We have a lot of baseball left," Stoll said. "There's a lot of season left. Nobody likes to lose, but we'll go again tomorrow. Albert's going to go out there and compete his tail off and hopefully come out with a 'W' and get us rolling. This is far from being over."
Copyright 2018 The Lawrence Journal-World. All rights reserved. This material may not be published, broadcast, rewritten or redistributed. We strive to uphold our values for every story published.