Facebook Following
Number of fans or friends for each of the Lawrence retailers featured (as of presstime):
Astrokitty Comics, 15 E. Seventh St.: 1,943
Love Garden Sounds, 822 Mass: 2,849
Signs of Life, 722 Mass.: 1,206
Sunflower Outdoor and Bike Shop, 802 Mass.: 658
Weaver's department store, 901 Mass.: 299.
Source: Facebook.com
Many Lawrence businesses have fan pages on Facebook, and many say those pages help bring in customers. Here's a snapshot of the site's different uses.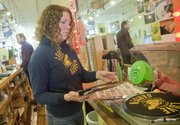 Love Garden Sounds, 822 Mass.
Kelly Corcoran didn't originally want a Facebook page.
Corcoran, Love Garden Sounds owner, said his sister talked him into signing up for Facebook. Then one day he listened to an album and wrote about it on the page, and he's been doing that ever since. He says the page brings in people asking about the music.
"People get really excited when it's something that they know," he said.
Oftentimes people will read about an album, then come in to buy it specifically because he wrote about it. He says the page reminds people that the store exists and brings them in more often than they would have otherwise.
"It's a free way to stay connected for people who want to stay more closely connected to the store," he said. "It targets people who already want to be closer."
Corcoran says that the site also serves as something fun to do during downtime at the store, but it's not right for every business.
"It's all about the audience at your business," he said. "It makes most sense with businesses that have a social construction."
Astrokitty Comics and More, 15 E. Seventh St.
Astrokitty uses Facebook to expand the store's exposure, said Joel Pfannenstiel, owner.
"I know a lot of my customers are on there," he said. "They will use the site to special order or add to their subscription card."
Pfannenstiel posts the store's hours and special events on his page, and often announces the arrival of new comics to the store. For a while he was posting reviews of comics, but he said there was a fine line for overposting. Ultimately, though, the site has one of the highest fan counts of retail businesses in Lawrence.
"It's really a grassroots thing," he said. "One person will recommend us to a friend."
Pfannenstiel said the Facebook page keeps him connected to customers and Lawrence expatriates, and he tries to reply to all comments or questions directed at the store.
Signs of Life Bookstore, 722 Mass.
Clay Belcher uses Facebook to reach a younger demographic, one he says may not necessarily read a newspaper and see the store's ads. Belcher, owner of Signs of Life Bookstore, posts events, coupons and blog entries on the site. He's noticed that it attracts a different audience from what he normally sees, especially the online coupons, which he says do very well.
"I think the main thing is creating buzz and awareness," Belcher said. "It definitely brings people who wouldn't necessarily have come in that day."
One dilemma he faces, though, is how much time to put into the site. It's hard to find the balance of posting too much and not often enough, he says. But it's necessary to have a presence in social media.
"You can't not do it," he said. "It's what you have to do if you're in business today."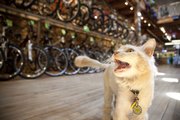 Sunflower Outdoor and Bike Shop, 802 Mass.
Sunflower Outdoor and Bike Shop has two different types of pages: a fan page for the business and a profile page for their cat Stanley. Kalen Richardson, sales associate, said multiple people run the store's page, which posts special events and photos. She said the page should probably be more active, though, and serve to communicate with the store's regular customers.
Richardson said Stanley's page actually brings in customers who want to visit him.
Weaver's, 901 Mass.
Joe Flannery said Weaver's joined Facebook after seeing other businesses do the same.
"We thought it was important to have Facebook as another mechanism to connect," he said.
Flannery, president of Weaver's, said the posts are outsourced to someone outside the store. They've experimented with posting coupons and think the page makes people more aware of the store.
The store has its goals for the page for next year. Flannery said that he wants more people to sign up to be fans of the page, but also that a main goal is to update the site more often.
Copyright 2018 The Lawrence Journal-World. All rights reserved. This material may not be published, broadcast, rewritten or redistributed. We strive to uphold our values for every story published.