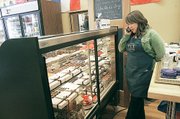 John Hay's first experience with downtown Lawrence came before he had ever visited the town.
"I was a high school junior living in Leavenworth, and my mom came home from a wives' club trip," Hay recalled. "She couldn't say enough about how neat this little town was."
Hay learned firsthand about the charm of downtown Lawrence as a Kansas University student in the late 1970s and early 1980s. And now, he's celebrating 22 years operating his dental office in downtown.
"I've always been really comfortable in the downtown environment," he said.
For business owners, operating in downtown Lawrence brings a wealth of potential and risk — the benefits of having heavy foot traffic and the costs of being in a desirable location.
And all of this has been amplified as businesses have struggled to weather the recession, and as city officials and business owners work to envision what the makeup of downtown will be as the economy improves.
"Mostly I'm hearing quite a bit of optimism," said Jane Pennington, director of Downtown Lawrence Inc., which is composed of downtown businesses. "Everyone seemed to have a better Christmas than expected. Things are looking up. Of course, you have the same people who are always close to closing — always looking at the worst."
Food for thought
Lora Wiley can't imagine working anywhere but downtown. She's operated Au Marche, a retailer that features European foods, downtown since 1998 and at its current location, 931 Mass., since 2003.
"It makes me happy to be downtown every day," she said. "It's such a great atmosphere. I feel a sense of community downtown."
Au Marche also benefits from the foot traffic. Wiley said she notices "regulars" — especially those who live or work downtown — coming into the shop more during the week, and more out-of-town people on the weekends. Business, of course, is best on KU game days, or when there are other events happening downtown.
And during the recession, Wiley has noticed another trend at her business.
"Now the economy is challenging, people are saying they are making conscious decisions to spend money in Lawrence and downtown," Wiley said. "Those are conversations I didn't have in the early days."
Striking a balance
Wiley, like some other business owners, is concerned about balance when it comes to downtown's offerings.
"It's nice to offer customers something different," she said.
Several large retail spaces have recently made the transition to restaurants, including the former Round Corner Drug Store (801 Mass., now Esquina) and Palace Cards and Gifts (8 W. Eighth St., now Noodles and Co.).
Several other homes to retailers sit empty, including the former Blue Heron Home Furnishings, 921 Mass.; Arensberg's, 825 Mass.; and Maurice's, 739 Mass. The owner of the Arensberg's building is remodeling it to include condos and has made a commitment to retain a retailer in the space.
Pennington said concerns that downtown becomes too much of an entertainment district — and doesn't have enough retail shops — have sparked discussions among members of Downtown Lawrence Inc.
"It's something we've talked about a great deal, but we haven't really come to any conclusions," Pennington said. "In my mind, it does have to happen organically. We need to find a balance."
'Gold mine'
Josh Mochel agrees that balance is good for downtown, but he also thinks more could be done to promote the entertainment district model at the same time.
Mochel, who owns Jo Shmo's, a bar and restaurant at 724 Mass., worries that aggressive marketing by the shopping areas near the Kansas Speedway in Kansas City, Kan., may pull regional shoppers away from Lawrence.
A recent report by the Kansas Department of Revenue confirms that Lawrence is losing shoppers compared with its pull rates from much of the last decade.
Mochel figures if Lawrence is going to do anything to stop that slide, it must start with downtown.
"When people come to town, they think of downtown Lawrence," Mochel said. "They don't go to Sixth and Wakarusa or 23rd and Kasold."
He's a proponent of closing down done some of Massachusetts Street once a month to have a pedestrian mall-like atmosphere, with entertainers and downtown vendors selling their wares and food outdoors.
"Let's take what we do inside and move it to the streets and celebrate it," he said.
On other days, Mochel said, downtown needs to be more visitor-friendly, with a free trolley system to move patrons along Massachusetts Street and maps showing where businesses are located.
"We're sitting on a gold mine on Mass. Street," Mochel said.
'Double-edged sword'
Mochel said controlling downtown real estate prices seems to be key to keeping businesses, as well.
"The first thing they teach you in the restaurant business, or any business, is location, location, location," he said. "Unfortunately, it comes at a price in Lawrence. It's a huge double-edged sword."
Hay, the dentist , said the number of owner-occupied buildings downtown has decreased in the more than two decades he's operated his practice. More developers own buildings, with tenants operating out of them.
Hay, who rents his space at 10 E. Ninth St., said some of his patients like visiting the dentist downtown because they also can shop and have lunch at the same time.
"It makes a day," he said.
Despite the changes downtown, Hay is confident Lawrence residents will continue to preserve one of its jewels.
"It's a community resource that has faded in most communities," he said of downtowns. "It has to remain, in the eyes of the community and elected officials, something people do see as valuable."
Copyright 2018 The Lawrence Journal-World. All rights reserved. This material may not be published, broadcast, rewritten or redistributed. We strive to uphold our values for every story published.