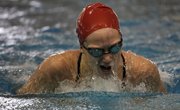 It was not uncommon Tuesday to see a Free State High swimmer more than two body lengths ahead of the pack near the end of the races at the Free State Invitational.
Therefore, it came as no surprise to the Firebirds when they learned they had won the six-team meet by 133 points.
"Honestly, I think everyone kind of knew after the first relay," junior Reilly Moore said. "And I think that kind of got everyone pumped up."
Although the competition may not have been the stiffest, the Firebirds found plenty of reason to stay locked in.
"For me, I just don't ever want to lose," Moore said. "And I'm always swimming for my time. Everyone has personal goals and meet goals and that's what we focus on."
Added senior Morgan Flannigan, who, like Moore, was a part of four first-place finishes: "No matter what sort of meet it is, you want to (swim your) best time. And since this was a home meet, I think everyone was a little more excited."
No kidding. Free State placed first in 10 of the 12 events. That included all three relays, Heather Clark winning the 200 IM, Kayla Hedges winning the 200 freestyle in 2:03.36, Chloe Portela winning the 100 butterfly and 100 backstroke and Moore winning the 100 freestyle by four seconds despite rarely swimming the event.
Even with all of their success, Moore — who also recorded victories in the 100 breaststroke, 200 medley relay and 200 freestyle relay — said the best part of the day was what it taught her less-experienced teammates.
"This was awesome for the newcomers," Moore said. "They need to get used to seeing what it takes to be successful."
FSHS coach Annette McDonald also had praise for Free State divers Hannah Carlson, Ally Frydman, Brooke Leslie and Grace Oliver, who placed third, fifth, sixth and 10th, respectively.
"They did great," McDonald said. "Now they need to work on getting a higher degree of difficulty. If they can do that, it only makes us more dangerous for state."
Lawrence High also competed at Tuesday's meet and finished fifth with 258 points. Leading the way for the Lions were senior Jessica Boyer and freshman Heather Cistola.
Boyer contributed to three top-three finishes for the smaller LHS squad, including a second-place effort in the 200 individual medley that was good enough to earn her a spot at state.
"I was really nervous about getting that," Boyer said. "But now I don't have to worry about it anymore and I can just swim my races and have fun."
Cistola was similarly strong, finishing second in the 120-swimmer field of the 50 free, and both contributed to the Lions' top-five finishes in the 200 medley relay and 400 freestyle relay.
"Overall, we improved a lot today," Boyer said. "I'm really proud of our little team."
Copyright 2017 The Lawrence Journal-World. All rights reserved. This material may not be published, broadcast, rewritten or redistributed. We strive to uphold our values for every story published.