Photo Gallery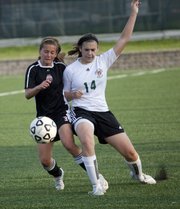 Free State vs. Lawrence High girls soccer
Pictures from the FSHS vs. LHS girls soccer game Tuesday, April 13.
A game like Tuesday's had been a long time coming for the Free State High girls soccer team, so when Hillary Yoder took a pass from junior defender Mckenzie Dever and finagled it into the net for what would prove to be the game's only goal in a 1-0 Free State victory over visiting Lawrence High, the junior midfielder and her Firebirds teammates reacted in kind.
"I think I screamed for 15 seconds without even realizing it," Yoder said.
If the players' celebration was a bit exuberant, you'll have to excuse them: The victory represented the first of the season for a Firebirds team that, despite playing teams close for the most part, had gone winless through its first four games of the season.
Following a 3-0 loss to Washburn Rural to start the year, the Firebirds tied Shawnee Heights before suffering back-to-back losses to Olathe Northwest and Lansing — both by two goals or fewer.
"We've played well up to this point, we just haven't been able to get the result," FSHS coach Jason Pendleton said. "And to get the result, let alone against Lawrence High, is great for the kids."
Added Yoder: "We've had a few games that we've let slip through our fingers. And this is the first game we took advantage of our chance."
Neither team could get much going offensively, thanks to strong defensive play by both teams, and with the exception of a couple scares, FSHS was never in real jeopardy of giving up its lead.
In the end, the game came down to a single hiccup on the part of Lawrence High, allowing Yoder to sneak in her goal with 29:27 remaining in the first half and dropping the Lions to 2-4 (0-3 in the Sunflower League) this season.
"I told this team what I've told every team I've ever coached," Lawrence High coach Matt Anderson said. "You can play 80 minutes of great soccer, but that one mistake you make just like that will cost you."
Free State, meanwhile, walked away from Tuesday's game hoping to build upon its recent success.
"Hopefully," said Pendleton, "we can use this as a little momentum as we move into the remainder of the schedule."
Copyright 2018 The Lawrence Journal-World. All rights reserved. This material may not be published, broadcast, rewritten or redistributed. We strive to uphold our values for every story published.