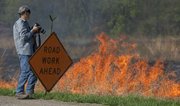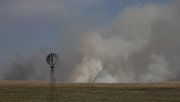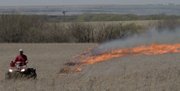 Flint Hills farmer Larry Soyez is setting the prairie on fire.
Dragging a gasoline-dripping "fire stick" behind a four-wheeler last weekend, Soyez burned about 1,000 acres of Chase County pasture, part of an annual ritual to rejuvenate the green grass that beef cattle love.
Clouds of smoke look like air pollution to some.
"I know it reduces the air quality but I think it's more environmentally friendly than spraying our pastures every year and putting tons of chemicals on all this grassland," Soyez said.
It was much the same story Wednesday morning just south of Lawrence, where Roger Boyd, director of the Baker Wetlands, was burning at the wetlands.
"The only way we can manage the native plants and promote the growth of beneficial plants — prairie plants, native plants — is basically to burn it," Boyd said.
Boyd said the dilemma is managing natural areas when people live nearby.
"At some point we'll have to develop a compromise," he said. "We try to burn when the smoke's not going to blow into Lawrence or it's going to blow through so fast that it's going to have minimal impact."
In March, a Kansas Senate committee approved a resolution aimed at exempting burning in the Flint Hills from federal environmental restrictions.
Copyright 2018 The Lawrence Journal-World. All rights reserved. This material may not be published, broadcast, rewritten or redistributed. We strive to uphold our values for every story published.