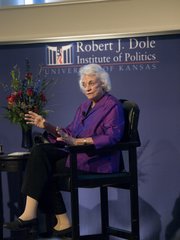 Retired Associate Supreme Court Justice Sandra Day O'Connor reflected on a long judicial career Monday evening in Lawrence, and looked ahead to the nomination of a new justice to the high court.
O'Connor said she didn't seek the position of Supreme Court justice, and that her "heart sank" when then-President Ronald Reagan called to inform her she'd be nominated.
If not for her husband's prodding, she said, she may never have accepted the position as the first woman to sit on the Supreme Court for fears that she wasn't up to the task.
"It's fine to be the first, but I didn't want to be the last," O'Connor said.
In a wide-ranging interview with U.S. Court of Appeals Judge Deanell Tacha at Kansas University's Dole Institute of Politics, O'Connor traced her career from an upbringing in rural Arizona to Stanford law school to the Supreme Court.
The invitation-only event was attended by law students and invited guests of KU's School of Law.
The interview touched on the pending retirement of John Paul Stevens, the most senior associate justice on the high court.
O'Connor remarked on how physically and mentally active Stevens remained at age 90, calling him a "remarkable man."
She expressed hope that whoever the next nominee would be that the political rancor would be kept to a minimum, but with partisan politics currently carrying the day in Washington, she said that was probably doubtful. She said she wouldn't mind seeing the president nominate someone without experience as a judge, or if he nominated another woman.
"I don't know who we're going to get, but it wouldn't be all bad if we had more than two" women on the court, O'Connor said.
O'Connor remains active in her retirement. Though her tennis and golf games have slowed with age, she still enjoys bridge.
She is busy promoting causes such as statewide judicial selection by merit, rather than direct election, and high school civics education.
Copyright 2018 The Lawrence Journal-World. All rights reserved. This material may not be published, broadcast, rewritten or redistributed. We strive to uphold our values for every story published.