Photo Gallery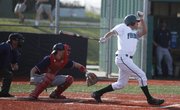 Free State vs. Olathe North baseball
Photos from Free State's game against Olathe North on Monday, April 12, 2010.
Hitting wasn't a problem for Free State High's baseball team during Monday night's game against visiting Olathe North.
The timeliness of that hitting, however, left something to be desired.
The Firebirds managed nine hits in seven innings, but couldn't capitalize on several potential scoring situations, leaving 12 runners on base in falling, 5-4, to the Eagles.
"We had some hard outs, but we had several unproductive outs," said Free State coach Mike Hill, whose team suffered just its second loss of the season. "Offensively, we're not in sync, and we've got to find a way to string it together."
That wasn't to say that the Firebirds didn't have their opportunities.
Free State had two on with one out in the bottom of the fourth — thanks to a double by Ryan Scott and a Cory Delg walk — and one on with no out in the fifth. On both occasions, the team came up empty.
It didn't help, either, that the Firebirds were playing catch-up for most of the game.
Olathe North jumped to a 4-0 lead heading into the bottom of the third inning, knocking Free State starter Robert Wagner from the game in the third, and held a 5-1 advantage two innings later.
"We got down early and then laid back for a couple innings before getting after it," said Free State outfielder Cody Kukuk, who finished 4-for-4 with a double and three RBIs. "But by then it was too late."
The Firebirds (5-2) did manage to make a game of it late. They scored two runs on the bottom of the sixth inning, when Kukuk singled to score Austin Holladay and Nick Hassig, to pull to within 5-3, and appeared to be poised for a comeback after loading the bases with no outs to start the bottom of the seventh inning.
But Scott struck out for the first Free State out, Delg slapped a sacrifice fly to right field for the second, and Hassig struck out to conclude the game with the tying run stranded at second base.
"We had some offensive miscues that kind of kick-started them," said Hill, whose team will begin play in the River City Baseball Festival with a 7:30 p.m. game Thursday. "Give them credit. When we left the door open, they took advantage of it."
Copyright 2018 The Lawrence Journal-World. All rights reserved. This material may not be published, broadcast, rewritten or redistributed. We strive to uphold our values for every story published.