Eudora — Four hundred pounds of beef jerky cools in the stainless steel smoker in the back room.
In the front room, Tom Pyle grabs a seat at the employee lunch table, while son Pat wipes it clean from a homemade meal that his mother had brought them, as she does each day.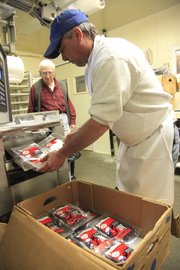 "Cherokee Fiddle" — an old Johnny Lee song — plays on the radio. The lyrics are about a bygone era. So too, it seems, is this.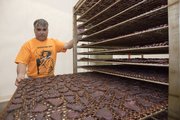 "A lot of times," Pyle says, "when people have something like this happen, they blame the bank or somebody. But I'm not blaming anybody. I'm just saying it is a sign of the times. It is what's happening."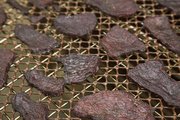 The cooling jerky is the last batch for Eudora-based Pyle Meat Co. The company has been in business since 1959. Since the late 1970s, it has been making a name for itself by selling Hombre beef jerky and smoked sausages at convenience and grocery stores throughout the Lawrence, Topeka and Kansas City area.
But this nationwide recession has tempered the flames of backyard grills everywhere and has left many a lunch pail unused. Pyle now says what many business owners have felt — this recession has been unlike any other.
"It has been far worse than any other, maybe twice as worse," Pyle says. "This time it hit almost all at once. I kept thinking it will be all right, it will be all right. But I was wrong. It's not."
• • •
When Pyle took over the aging butcher shop in downtown Eudora there were 800 people in the Kaw River town just east of Lawrence. There also were five grocery stores.
Early on, one grocer — long since gone — came by to say hello. He welcomed the newcomer to town and gave him a bit of advice. Just make a living butchering a few steers and hogs for the local farmers. But don't go stocking that meat case to sell to the townsfolk.
"He said if I did, he would run me out of business," Pyle recalled. "I told him that may happen. I said I had a thousand dollars to stock that meat case, and when it was gone I would walk up the street and tell him he was right. I never walked up that street."
That seems like a long time ago. Around the lunch table, though, the memories are still fresh from when the shop operated its own slaughterhouse — up to 5,000 head a year. Occasionally a nervous steer would escape out the front door and run down Eudora's Main Street.
That's the same street where employees — at one time there were 18 of them — would sit along the curb to take their 15-minute breaks. The traffic along the street was so heavy that it was nearly certain somebody would stop to shoot the breeze.
"A 15-minute break usually turned into a 30-minute break, much to the chagrin of the boss," said Pat Pyle.
Pat is one of four Pyle children — they're grown now, Tom Pyle Jr., Roberta Lehmann and Rose Pyle House — who still work for the company. All seven of Pyle's children have worked for the company at one time or another. About the only Pyle who has never officially worked for the business is Pyle's wife of 59 years, Alberta.
She's the one he worries about most.

"She's taking this really hard," said Pyle. "She tries to be brave around me, but this is her hometown, these are her kids. It is hard on me, but I'm at the practical part because of the money. I've got an obligation to support her, which is what I told her dad when I asked for his permission to marry her. I'm still going to hold onto that pledge."
• • •
When things were really rolling, the Pyle Meat Co. would smoke 1,200 pounds of beef jerky a week. Now, a batch of 400 pounds is about it.
"I could see the handwriting on the wall for a while now," said Pat, who oversees production with his brother. "I just didn't want to admit it."
He can see what's behind it all too. Perhaps man can't live on bread and water alone, but beef jerky doesn't make many lists of staples.
"I think most everyone would agree that beef jerky is kind of a luxury snack food because it is a lot more expensive than just buying a bag of chips," Pat Pyle said.
Controlling costs is easier said than done. Jerky is a time-consuming product to make. Each batch takes at least six hours in a 185-degree smoker. The bottom line is, you have to make so much jerky to cover basic overhead costs.
That's why big snack food companies — who also happen to make beef jerky — can survive. They can pay stores for the best shelf space. Pyle's never did, and sometimes got placed in the oddest of places — right next to the condoms in one convenience store. Who knows? Maybe it worked.
But it doesn't any more. That is what the Pyle Meat Co. has come to understand. But understanding it doesn't make it any easier.
The store's last day of operation will be Saturday. An auction to sell the business's equipment is set for April 21.
"Going home from that auction," said Pat, who has worked for the company for 30 years, "I suspect I'll have to pull off and stop a few times."
• • •
Around the table, there's talk that perhaps somebody will come in and buy it all — the recipes, the equipment, the whole operation — and some part of this will live on.
But it wouldn't be Pyle Meat Co. The old cafeteria-style menu board hanging from the wall, pictures of old town Eudora in rough-sawn frames, photos of all 34 Pyle grandchildren in an ornate hardwood case.
"That's what is going to be really strange," said daughter Roberta Lehmann. "Just not coming in and seeing my brothers and sister every day."
Pyle said he has had discussions with at least three people interested in buying the business. But hope does not rise too high. These times see to that.
"I just think people are afraid to go into business for themselves right now," Pyle said.
But still, maybe. Much has changed in the business world of late. But Pyle is still convinced the secret to a business' success still remains relatively simple.
"You know, a fellow's bread and butter is making someone happy," Pyle says. "That's still your bread and butter."
In the meantime, the jerky cools.
Copyright 2018 The Lawrence Journal-World. All rights reserved. This material may not be published, broadcast, rewritten or redistributed. We strive to uphold our values for every story published.