Salina — For nearly eight years, Charity and Kevin Miller have been wish-granters.
Through the Make-A-Wish Foundation of Kansas, based in Wichita, the Salina couple have fulfilled the requests of seriously ill children, some of whom have had only months to live.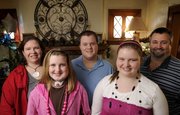 So far, the Millers' volunteer efforts have given 26 families a measure of hope during the most traumatic time of their lives.
Then, late last year, the Millers faced a trauma of their own. Their youngest daughter, Darby, 11, was diagnosed with cancer.
Just after Christmas, Darby, 11, received a diagnosis of one of the rarest of rare cancers — an aggressive cancer called myofibrosarcoma, which caused the growth of a lemon-sized tumor in her jaw.
To date, only two other cases of this form of cancer have been diagnosed in the U.S., said Charity, an intensive care nurse who works part time at Wesley Medical Center in Wichita and teaches nursing classes at Brown Mackie College in Salina.
"It took three hospital pathologists to decide what it was, including the Mayo Clinic," she said.
Now the couple who had spent years supporting others in need were in need of support themselves. Many families whom the Millers had helped were grateful to give something back.
"They've brought us gifts, called us, checked on us, researched for us and prayed for us," Charity said. "It's hard to accept giving instead of being the one who gives, but the families we've helped have been awesome."
Ann and Shane Frederiksen, whose 7-year-old daughter Josie had a brain tumor diagnosis a year ago, had a trip to Disney World arranged by the Millers. Ann Frederiksen said she understands what the Millers are going through.
"They're very generous and giving people and have been there for so many people," she said. "I stayed in contact with Charity after our trip, and after her daughter got sick, we called each other for support."
After Darby's diagnosis, she and Josie Frederiksen often had coinciding trips to KU Medical Center, Ann Frederiksen said.
Michelle and Bob Martin, whose son Jonah was born with a heart defect and has had 14 surgeries, including three open-heart surgeries, met the Millers in 2008 to plan Make-A-Wish family vacation to Disney World.
As a way of paying back the Millers for their kindness, the Martins helped set up a fundraising account for Darby through Sunflower Bank in Salina to help pay Darby's medical expenses.
Before last Christmas, the Millers were just an ordinary Salina family. Darby was an energetic sixth-grader at Lakewood Middle School who enjoyed sports, dancing and hanging out with friends and family, which included siblings Afton, 14, and Matthew, 23.
Several times a year, the Millers volunteered to arrange wishes for the Make-A-Wish Foundation for families in need in a 70-mile radius that included Salina, Clay Center, Junction City, Dorrance and McPherson.
Wishes are granted for ill children between the ages of 2 and 18, Charity said.
The Millers arranged trips to Disney World, Hawaii or New York City, as well as arranged room makeovers, installation of playground sets or shopping sprees at Toys R Us.
"We're like fairy godmothers," said Kevin, owner of ABC Pest Control in Salina.
Late last fall, the Millers noticed that Darby's left cheek was swelling, and a lump appeared to be growing along her jawline.
Darby had surgery at Wesley Medical Center Dec. 10 to remove the lump. On Dec. 28 doctors delivered the bad news — the tumor was cancerous. The problem was, no one was quite sure what kind of cancer.
"(Kansas University Medical Center) got it down to two possibilities, but it took the Mayo Clinic (in Rochester, Minn.) to figure out what it was," Kevin said.
On Feb. 24, Darby had surgery to remove the entire bottom left half of her jaw, from the bottom of her ear to the center of her chin.
Darby's fibula bone (the smaller of the two bones between the knee and ankle) was removed from her left leg, and a new jawbone was created for her. A patch of skin also was taken from the front of her left leg to repair her damaged cheek.
The massive swelling caused by the surgery partially blocked Darby's airway, requiring doctors to perform a tracheotomy to help her breathe. She also was unable to eat by mouth, so a feeding tube was inserted through her nose.
The feeding tube was removed three weeks later, and the trachea tube is due to be removed. Even more important, the prognosis for a total recovery is good, Charity said.
Darby, who celebrated her 12th birthday March 16, thinks she knows why she got this rare cancer — so doctors would know what to do with the next person who got it.
"I'll probably get written up in a medical journal," she said.
Copyright 2018 The Lawrence Journal-World. All rights reserved. This material may not be published, broadcast, rewritten or redistributed. We strive to uphold our values for every story published.