Six-year-old Sunny Lange spent a fun-filled hour Thursday with volunteers on Kansas University's campus.
But fun was not the only purpose. The hour — one of many spent by volunteers working with Sunny and other kids from the Boys and Girls Club — goes toward a lofty goal set by KU Chancellor Bernadette Gray-Little: 100,000 hours of volunteer work, or a "Semester of Service," before her inauguration on Sunday.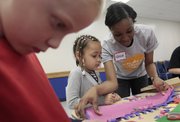 Sunny, however, was oblivious to the ambitious initiative designed to increase volunteerism on campus.
"We're painting," he said. "I'm painting a fish."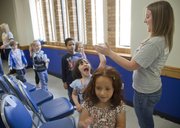 But maybe he did catch on to the chancellor's specific effort to get KU more involved in the community.
"It's a Jayhawk fish," he said.
Despite the hours logged with Sunny and his friends, the volunteers were about 20,000 hours short of the goal as of Thursday. A Web site is tracking the hours at www2.ku.edu/~kuworks/cgi-bin/service/index.php, where students and faculty log in to record their volunteering.
But KU student and volunteer Greg Loving said that even if they don't reach the goal, the initiative has made an impact.
"The important thing is getting people out and helping them understand what their community has to offer," said Loving, co-director of another volunteer initiative, Into the Streets Week, which is happening this week in conjunction with the chancellor's challenge.
Loving and a group of volunteer coordinators met with Gray-Little on Thursday morning to update their progress. He said the chancellor's commitment to volunteering further motivated the group.
"Lawrence gives so much to the University of Kansas," he said. "It's important that we give something back to them."
Copyright 2018 The Lawrence Journal-World. All rights reserved. This material may not be published, broadcast, rewritten or redistributed. We strive to uphold our values for every story published.