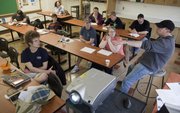 During the past several years, colleges in northeast Kansas have extended beyond their primary campuses to reach broader audiences in Lawrence or Kansas City.
These offshoot campuses are gaining popularity along with community colleges, partly because of affordability.
The Lawrence branch of Johnson County Community College has steadily grown in enrollment since its opening in 2007, from 40 students to more than 200.
Housed in a former elementary school that's also the headquarters for the Lawrence Virtual School, JCCC's outpost at 2145 La. offers a combination of general education and technical training courses. The school often partners with local businesses to educate and train employees.
"It gives students a chance to enter their practice closer to home and start back into their college education on a smaller scale," said Loralee Stevens, JCCC assistant dean for community outreach.
Satellite campuses
Baker University, Emporia State University and Ottawa University have extended their reach into the Kansas City area. These colleges have small satellite campuses in Overland Park, which offer both undergraduate and graduate degrees.
Programs at all three branches are oriented toward working professionals, offering night classes and taking several other steps to appeal to students who work full time or have travel or family restrictions.
Enrollment at these campuses has steadily increased, similar to the national trend of college enrollment. The Emporia State Metro Learning Center in Overland Park has grown to almost 350 face-to-face students, with an even larger online enrollment. ESU has also set up extension programs in Wichita and Hutchinson.
"We really look at distance education as a whole, where can we grow to serve all constituents of the state," said Liz Majors, assistant director of marketing at the Metro Learning Center.
Kansas University's Edwards Campus, also in Overland Park, has grown in enrollment and reputation since its opening in 1993. The campus offers degree completion programs for students to finish the second half of their undergraduate degrees or work toward graduate degrees.
The courses are also targeted for working professionals, and classes are scheduled in the late afternoon or evening.
"Our main mission is to serve the work force in Johnson County and greater Kansas City by providing these programs. It's very difficult for working professionals who want a KU degree if they have families and work full time and can't make it to Lawrence," said Elaine Warren, public relations director for the KU Edwards Campus.
Taxpayer help
The Edwards Campus, along with Kansas State University, received a boost from Kansas City area taxpayers, who approved the Johnson County Education and Research Triangle Initiative to fund expansions of the Edwards Campus, K-State and the KU Medical Center.
Through this funding, the Edwards Campus has been able to offer additional business degrees and will begin construction of a third campus building in April for the business and engineering curricula.
Kansas State, the most recent university to jump to the Kansas City region, is in the process of constructing the K-State Olathe Innovation Campus. The campus will include the $28 million National Institute for Animal Health and Food Safety.
The Olathe campus differs from other extension campuses because it offers only graduate degrees in animal-health and food-related fields and is expected to attract students nationally and internationally.
Dan Richardson, chief executive officer of K-State Olathe Innovation Campus Inc., said Olathe is a great location to set up a top-notch animal health research campus because of its accessibility and proximity to the industry.
"Kansas City is not only very much the center of the animal health corridor from Columbia, Mo., to Manhattan, Kan., but is very much more accessible," Richardson said. "It's a lot easier to get into Kansas City than it is as you start to branch out in different directions."
Construction of the National Institute for Animal Health and Food Safety is expected to be completed by late 2010 or early 2011.
Copyright 2018 The Lawrence Journal-World. All rights reserved. This material may not be published, broadcast, rewritten or redistributed. We strive to uphold our values for every story published.