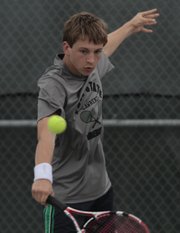 If it's April in Kansas, then area high school coaches must be spending a good deal of their time attempting to rework rain-ravaged sports schedules.
Severe thunderstorms that swept through the area Tuesday — winds were recorded in excess of 60 miles an hour, while some in the county were left without power — led to the cancellation of a number of evening sporting events and sent various athletes seeking shelter from their regularly scheduled games and practices.
"It's just something that you get used to after a while," said Free State boys tennis coach Oather Strawderman, whose team's home match was called after less than an hour Tuesday due to lightning and rain. "... The first couple weeks, you got the snow going on that hampered some things, too, but you just cope with things: do some stuff inside, some conditioning, and make the most of things."
While rescheduling is nothing new, of course, there are some ever-present downfalls to delaying or postponing prep sporting events.
Many times, coaches charged with rescheduling events are forced to jam a high quantity of games into a short amount of time, which, in addition to occasionally cutting into class time, can sometimes create fatigue among athletes.

"What's concerning is that the season is so short to begin with," Firebirds softball coach Lee Ice said. "You've got about a 5-6 week window in there — maybe seven weeks — to try to get in 20 games, and then you start getting rained out, all of a sudden you've got eight games in five days."
The good news for teams at Free State and Lawrence High is that new fields at both schools figure to ease the impact of April's showers.
Both schools now feature baseball and softball fields with artificial playing surfaces, meaning that not much, except lightning, will prevent the teams from taking the field.
"I would doubt that many dirt fields in town will be playable tomorrow," Ice said. "But ours would. We're scheduled to go over to Shawnee Mission East (on Wednesday) ... and if it's playable here, we may invite them to come here and play."
In the end, area coaches seem resigned to the fact that there's not much that can be done to curb bad weather — and therefore don't waste much time worrying about it.

Days like Tuesday are simply an unfortunate byproduct of the season and the region.

"I've lived in Kansas most my life," Strawderman said. "Few things surprise me anymore."
Copyright 2018 The Lawrence Journal-World. All rights reserved. This material may not be published, broadcast, rewritten or redistributed. We strive to uphold our values for every story published.