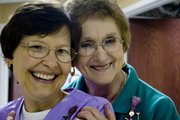 If you met Ginger Hamm, you wouldn't be able to tell she's had struggles in her life.
This fun, loving, energetic and, yes, silly woman warmly welcomes a visitor to her home. She was a kindergarten teacher for 39 years, so it's no mystery where she gets her patience and kindness. She is not angry or hateful, but thankful that she is able to say she's been a survivor of cancer for eight years.
In January 2001, Hamm was diagnosed with breast cancer. She knew without hesitation that she wanted to be treated by Dr. Ron Stephens at Lawrence Memorial Hospital.
She smiles as she said: "It's like having your doctor as your best friend; he is wonderful."
Hamm has known Stephens for years, as he treated her son who had rhabdomyosarcoma, a childhood disease, at the age of 16. Her son did not survive and died in 1974.
As Hamm went through radiation and chemotherapy, she recalls never feeling really sick.
"I just felt really puny," she said.
She explained that her hair never fell out entirely, but it was not pretty. She was told for years that blondes have more fun, so she got a blonde wig.
"They lied, they don't have more fun," Hamm said, laughing.
It's important, Hamm said, to have someone who supports you. For her, it was her husband, Emory, and the medical professionals at LMH.
"I could not have gotten through this without my husband," she said.
For Hamm, going to LMH feels like home because she knows a lot of the nurses from teaching their brothers, nieces or nephews. One month after she finished treatments, she began volunteering at the hospital.
"I wanted to give back" she said.
Eight years later, she is still a volunteer helping people and giving them support as she was given.

As a woman who has spent most of her life in education, it is no surprise that Hamm teaches other women about her story — and that they need to stay on top of their routine breast exams.
"You have to do everything to keep yourself safe," she said. "We are never promised tomorrow."
This experience has taught Hamm that life is precious. She knows her priorities, what's most important.
"My family is number one in my life," she said.
Hamm calls her husband into the room, looks at the love of her life and leads him outside to play in the leaves.
Copyright 2018 The Lawrence Journal-World. All rights reserved. This material may not be published, broadcast, rewritten or redistributed. We strive to uphold our values for every story published.