As Kansas public school districts grapple with cuts due to the state budget deficit, leaders of Lawrence's private schools say they are thankful for support and growing enrollment heading into next year.
"Certainly things are tight. We're being very careful," said Pat Newton, principal of St. John Catholic School. "The generosity of our parish is overwhelming. Our enrollment is steady, and we're able to meet our budget."
The state's budget crisis has forced the Lawrence public school board to already cut $4.6 million for the fall, which will affect class sizes and cut teaching jobs and some programs. But leaders of Lawrence's private schools say a mix of financial support and interest in the schools means they won't be making major cuts.
Newton said last week that the school at 1208 Ky. was still enrolling for the fall, but she expected numbers to meet or exceed this year's enrollment of 287 preschool through sixth-grade students.
Across town at Corpus Christi Catholic School, 6001 Bob Billings Parkway, school leaders are looking at a 9 percent enrollment increase to put the preschool through sixth-grade school at nearly 250 students.
"We are eager with that, and we'll be able to add another teacher to our staff, so we're very excited about that," said Mary Mattern, Corpus Christi's principal.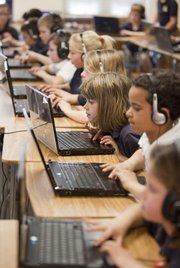 At Bishop Seabury Academy, 4120 Clinton Parkway, the seventh- through 12th-grade school expects to have about 20 more students in the fall to push its enrollment to more than 140 students.
"It will be the highest we've had in the history of the school," said Don Schawang, Seabury's head of school.
And Veritas Christian School, 256 N. Mich., which serves 130 kindergarten through 12th grade, leaders expect a slight enrollment increase, after the school was down about 12 students from last year. Kelli Huslig, the Veritas administrator, said fundraising has been difficult in recent months due to the economy. But she expects staffing levels at the school the same, and the school continues to add activities.
Earlier this year, when Lawrence school board was considering what budget cuts to make, Newton said St. John Catholic School received a number of calls from parents. After board members decided to take closing schools off the table for next school year, Newton said the frequency of calls slowed.
Private school leaders say they continue to offer smaller class sizes, while the public district will have larger classes for next year. Much of the interest in private schools has come from the recent growth in programs and facilities the schools have made, they said. Mattern, Corpus Christi's principal, said Lawrence has a mix of good options for families among its public and private schools.
"They were looking for the faith-based education and excellence in education. Our preschool brought in a lot," Mattern said. "We have some transfers from public schools, and we've had some people who have moved in."
Schawang, Seabury's head of school, said the school is starting to grow into its own with its curriculum as a college preparatory school, which has kept students and parents interested.
"Parents know the value of a strong education, and I think it's the last thing they will sacrifice,"
Steady or growing enrollment is critical for local private schools. Seabury and Veritas operate on tuition, and the two Catholic parish schools receive support from families and parish members. Families from outside the parish who want their children to attend must pay tuition.
"I think really when you send your child to school, you're really becoming part of the new community, and it takes the leadership of the parish, the faculty and staff," said Kathy Severa, a Corpus Christi parent. "And it takes all of the other parents to make to make that community."
Copyright 2018 The Lawrence Journal-World. All rights reserved. This material may not be published, broadcast, rewritten or redistributed. We strive to uphold our values for every story published.