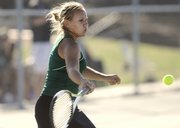 As the evening wore on, the importance of every match went up.
Such is the way things go when Lawrence High and Free State High face off in any sport. But that was especially true in the first-one-to-five-wins tennis dual between the Lions and Firebirds on Monday at FSHS.
In the end, it was LHS that reached five first, knocking off the Firebirds for the second straight year and just the second time in school history.
"It's really exciting," said LHS junior Morgan Manger, who won, 8-6, in the No. 4 singles match. "I'm just really happy we did it again because if we would have lost it would have made what we did last year meaningless."
The Lions and Firebirds were evenly matched throughout the day. LHS picked up two doubles victories to open the dual — Elizabeth Simons and Jordan Payne won, 8-4, at No. 1 doubles, and Taylor Eubanks and Jamie Jarrett won, 8-6, at No. 2 doubles — and took a 2-1 lead into singles play.
It was there that Free State made its move.
The first Firebird to win was No. 6 singles player, Guin Toalson, who knocked off Lawrence's Arianne Suchy, 8-4.
The dual tipped back in the favor of the Lions when No. 3 player Taylor Eubanks defeated Free State's Ashley Stagg, 8-3.
Shortly after Eubanks and Stagg left the court, Free State's No. 1 singles player, Mackenzie Lown, put the finishing touches on her victory, an 8-2 victory against Simons, which evened the match at three victories apiece. In that one, Lown was quick on her feet and patient with her play.
"I knew I really needed to win, especially since we lost in doubles," Lown said. "So I just tried to stay in every point and hit good shots."
From there, things really began to heat up.
Manger and Caitlyn Tilden went down to the wire in the No. 4 singles match, which Manger won, 8-6, despite trailing by scores of 5-2 and 6-5. As Manger and Tilden went deeper into the match, both became more conservative with their shot selection. Manger benefited the most from that strategy, as she turned a 6-5 deficit into a 7-6 lead and cautiously played out the 14th game of the match for the victory.
"I was just trying not to lose at that point," Manger said. "I figured it was a really important match just based on what I'd seen from everybody else. I try not to play it too safe in that situation, but it's hard."
Manger's victory gave LHS a 4-3 lead and meant that the Firebirds needed to win the final two matches — which were in progress — to win the dual.
For a bit, it looked as if that might happen. Liz Walters, the Firebirds' No. 5 player, had Lawrence's Jamie Jarrett on the ropes, but saw a 7-5 lead slip away as Jarrett forged a 7-all tie and forced a tiebreaker.
"When I start to get frustrated, I don't play as well," Jarrett said. "When I was down, I remembered a challenge match in the past where I played it safe and lost, and I didn't want to do that again. Past memories saved me once again."
Armed with a newfound confidence, Jarrett jumped to a 4-1 lead in the tiebreaker and won the match, 8-7 (7-4).
Despite the loss, Walters said she was proud of how she played and was thrilled to play such a big role in the city rivalry dual.
"Yeah, it's fun," Walters said. "I felt like I played really well, and that's all that matters. Of course I wish I would've won, but at least if I had to lose it was to our rival in a tiebreaker."
Jarrett's victory gave the Lions a 5-3 lead and turned the ultra-competitive No. 2 singles match between Jordan Payne (LHS) and Kelly Phipps (FSHS) into a specator-friendly consolation battle. Phipps won that one, 8-6, to make the final dual score, 5-4, in favor of LHS.
Copyright 2018 The Lawrence Journal-World. All rights reserved. This material may not be published, broadcast, rewritten or redistributed. We strive to uphold our values for every story published.