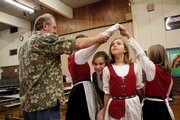 Nordic Heritage Festival
When: Noon to 9 p.m. Saturday
Where: Douglas County 4-H Fairgrounds, 2120 Harper St.
Entertainment: Lawrence Nordic Dancers, Kansas City Scandinavian Dancers, Byron Wiley and Ingevalds Spelman,
and Scandanavian food and art.
Admission: Suggestion donation is $5.
Cali Byrn traveled with her family to Norway last year.
She saw the fjords and waterfalls near Oslo that are signature to the country her great-grandfather came from.
"I just think it's cool to know where my ancestors came from," the 11-year-old says.
Equally cool, she says, is that she gets to show off traditional Norwegian dances to a new audience.
Cali is part of the Lawrence Nordic Dancers, a group of children who will perform Saturday as part of the eighth annual Nordic Heritage Festival.
The festival runs from noon to 9 p.m. at the Douglas County 4-H Fairgrounds, 2120 Harper St. It includes an afternoon and evening of Scandinavian entertainment, food and art.
It'll likely be the youngsters dancing that steals the show.
The Lawrence Nordic Dancers have been a part of the festival for seven years. The Kansas City Scandinavian Dancers have come to Lawrence to train the youths.
"There are some waltz steps incorporated," says Marilyn Myers, one of the festival's organizers and Cali's grandmother. "Some of the dances we do are mixer dances, which are a good way for people to get to know each other, especially men and women."
The dancers — all girls this year — wear red and white outfits traditional to Norway, and some wear blue outfits modeled after adult costumes.
Myers says when her father, who came from Norway, and her mother's parents, who also came from Norway, first arrived in the United States, they wanted to shed some of their country's traditions.
"There was not a lot of heritage that was passed on," she says. "They wanted to be part of America. They loved the culture of Americans."
Eight years ago, Myers and a friend of Norwegian heritage started wondering how many Lawrence residents were of Scandinavian descent. They put out some feelers, and the festival was the result.
For as much as the adults enjoy identifying with their heritage, they like passing it along to the younger generations even more.
"Truthfully, that's why we've done the festival," Myers says, "to teach the younger generation about the culture. It is exciting to see (Cali's) interest and being excited about her heritage."
Cali says the level of difficulty varies by the dance.
"Most of them we do for the kids are easy," she says. "Next year, we're going to try some new ones that are harder."
She even got a friend, fellow 11-year-old Lexie Freeman, to join in the dancing.
"It was something I was just interested in learning about," says Lexie, who also is involved in Dazzlers Christian Dance. "It is pretty easy to learn, but it depends on the dance, really. Sometimes it takes cooperation. A few years ago, there were boys, and they stepped on your foot on purpose."
Copyright 2018 The Lawrence Journal-World. All rights reserved. This material may not be published, broadcast, rewritten or redistributed. We strive to uphold our values for every story published.