Photo Gallery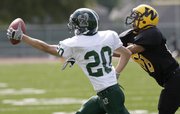 Free State football 22, SM West 15
Box Score
FS • SMW First downs: 22 • 11 Rushes-yards: 50-247 • 22-84 Passing Yards: 126 • 115 Total Offense: 362 • 210 Return Yards: 23 • 19 Passing: 11-16-0 • 8-18-0 Punting: 1-20.0 • 4-38.0 Fumbles-lost: 2-1 • 1-1 Penalties-yards : 4-35 • 3-15
SCORE BY QUARTERS Free State High 0 8 7 7 — 22 SM West 0 8 0 7 — 15
INDIVIDUAL STATISTICS
RUSHING FS: Kirk Resseguie 22-109, Preston Schenck 5-56, Camren Torneden 15-47, Matt Cole 8-35. SMW: Cordi Pascal 8-41, William Livingston 7-32, DJ Balazs 6-8, Danny Dowling 1-3.
PASSING FS: Torneden 11-16-115 (one intercepted). SMW: Balazs 8-18-126.
RECEIVING FS: Connor Stremel 6-71, Keene Niemack 2-18, Aundre Allen 1-11, Bo Schneider 1-5. SMW: Kevin Webster 4-92, Justin Austin 3-27, Dowling 1-7.
SCORING
Second Quarter 9:13 — Camren Torneden 1 run. Keene Niemack 2-point conversion run. (Free State 8, SM West 0). 0:49 — Cordi Pascal 8 run. Pascal 2-point conversion run. (Free State 8, SM West 8).
Third Quarter 6:21 — Kirk Resseguie 1 run. Gabe Ballard-Hansen kick. (Free State 15, SM West 8).
Fourth Quarter 9:48 — Kirk Resseguie 8 run. Gabe Ballard-Hansen kick. (Free State 22, SM West 8). 8:46 — William Livingston 8 run. Nick Sylvester kick. (Free State 22, SM West 15).
Overland Park — Free State High's offense outgained previously unbeaten Shawnee Mission West by a length-and-a-half of the football field, but it was the Firebirds' defense that won the game.
Clinging to a one-touchdown lead with 90 seconds to play, the Firebirds saw all of the work they had put in to Saturday's hard-fought Sunflower League road battle flash before their eyes when West quarterback D.J. Balazs connected with Kevin Webster down the far sideline with 52 seconds to play.
As the pass floated in the air, Free State safety Preston Schenck came over to make a play on it, but saw the ball slip past him and into the waiting hands of Webster, who, for a second, appeared to be on his way to a game-tying touchdown. Just then, junior cornerback Dylan Perry, who admitted to having been beaten on the play, reached out while falling backwards and came up with a fistful of black SMW jersey. Webster dragged Perry with him for about three yards but could not break free. Four plays later, the Firebirds had held, and Free State left the field victorious, 22-15.
"I knew that if I missed the tackle we might have lost the game," Perry said. "So I just reached out for whatever I could grab, and I just got his jersey. Once I got a grip on him, I was pretty sure I could hold on at least long enough for someone else to get over and bring him down."
As it turned out, Perry brought Webster down all by himself.
Perry might have been the hero of the final series, but there were plenty of primetime plays that came before his that led the Firebirds to their third straight victory.
Free State opened the game with a 19-play drive that ran nine minutes off of the clock. The drive stalled inside the SMW 10-yard line, but not before serving its purpose.
"All week the O-Line worked on being physical," center Michael Lisher said. "Because we knew they were quick and that they played low and that they would come after us. We just wanted to make a statement on that first drive that we could handle them. Even though we didn't come away with any points, we knew that the time after that and the time after that we could get it done."
That's exactly the way it went down as the Firebirds outgained the Vikings, 362 yards to 210.
After holding the Vikings to three-and-out on their first possession, Free State got the ball back and methodically moved down the field for the first touchdown. Five yards here and another four yards there, Free State punched in the game's first score when senior quarterback Camren Torneden scored from a yard out. Keene Niemack converted the two-point conversion to give Free State an 8-0 lead.
While the FSHS defense remained stingy, the offense continued to pound away, using Matt Cole and Schenck as complements to the usual 1-2 punch of Torneden and senior tailback Kirk Resseguie.
"Every week we try to throw something new into the mix," FSHS coach Bob Lisher said. "That formation where we used Matt and Preston seemed to work well today, and we went with it."
Added Cole, who finished with 35 yards on eight carries: "It felt really good to get some carries in an actual game and take on that challenge. We've all been working really hard in practice, and I think me, Kirk and Preston are all capable of running the ball well."
The Firebirds (3-1) outgained SM West, 173-37, in total yards in the first half, but the teams entered the locker room tied at 8 after a Torneden interception late in the half set up an easy SMW touchdown.
In the second half, Free State reclaimed control with two Resseguie touchdown runs and pushed its lead to two scores — 22-8 — before the frantic final moments.
In addition to getting the crucial stop on the game's final series, Free State's defense stood tall in the shadow of its own end zone two possessions earlier to ensure the victory.
"Overall, I feel like our defense has played great in all four games," Bob Lisher said. "We may bend a little, but we don't break very often. Shawnee Mission West is a heck of a football team, and we outplayed them today."
Added Michael Lisher, who along with Cole and the rest of the Free State front seven pressured Balazs into three straight incompletions with the game on the line: "Big moments like that are why you play the game. You want to be in that position, with the game on the line and the outcome in your hands. It was very exciting."
Copyright 2018 The Lawrence Journal-World. All rights reserved. This material may not be published, broadcast, rewritten or redistributed. We strive to uphold our values for every story published.