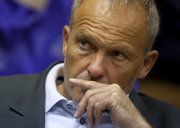 Janet Ikenberry wasn't surprised a crowd of about 150 senior citizens and retirees flocked to a job fair Tuesday at the Lawrence Senior Center, 745 Vt.
"They are wanting to work longer. Some of them are needing to work longer with the current economic situation, and a lot of people lost a lot of money in their retirement savings," said Ikenberry, community services manager for Senior Services of Douglas County.
Representatives from 18 businesses were on hand for the third annual Senior Employment Expo to talk to people looking for full-time or part-time work.
The companies ranged from those in health-related fields — Lawrence Memorial Hospital, the Douglas County Visiting Nurses Association and Trinity In-Home Care — to retailer Home Depot and financial adviser New York Life Insurance Co.
Ikenberry said that about 100 people attended last year's fair and that businesses are generally looking to tap into a market that features experienced workers.
"The senior population is attractive to employers because of their strong work ethic and dependability," she said.
Senior Services also offered workshops for job hunters. In addition to résumé and interview tips, they offered advice on social networking and online applications — pieces of the job search puzzle that some seniors aren't as familiar with, Ikenberry said.
Lawrence resident Marleeta Dowdell, 57, who recently retired from Hallmark Cards, said a couple of opportunities caught her interest Tuesday morning.
"I was hoping to see what openings are available after the first of the year," Dowdell said.
Michael McManness, 55, of rural Lawrence, was looking to rejoin the work force after serving as a caregiver for his mother, who recently died.
Because networking can play a major role in catching the attention of employers, he said, he was pleased that employers set up booths at the center.
"I think it's great," McManness said.
Copyright 2018 The Lawrence Journal-World. All rights reserved. This material may not be published, broadcast, rewritten or redistributed. We strive to uphold our values for every story published.