Photo Gallery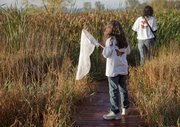 Butterfly tagging gallery, 2009
Butterfly tagging gallery, 2009
As Kansas University football team wide receivers were warming up to catch passes from quarterback Todd Reesing, hundreds gathered across town in south Lawrence to catch monarch butterflies.
But instead of resulting in touchdowns, the caught butterflies were "tagged" by volunteers at the Baker University Wetlands who placed small stickers on the monarchs before releasing them.
The annual tagging event, sponsored by KU's Monarch Watch and the Jayhawk Audubon Society, has several purposes, said Chip Taylor, executive director of Monarch Watch.
The tagging, which occurs nationwide this time of year, allows scientists and conservationists to track the butterflies as they migrate to Mexico. This helps researchers determine how many of the monarchs are surviving the annual migration and leads to better understanding of conservation efforts, Taylor said.
It's also an opportunity to get the community involved in nature.
"It's a family thing," Taylor said. "We want to get people outside."
Olathe youngster Isaiah Pickens, 8, and his sister Ruthie, 6, were among many kids out at the wetlands enjoying nature and the butterflies.
Isaiah said he first became interested in monarchs after studying them at school. He and his sister were able to catch and tag three during the day, and he said he had fun "going through all the weeds" looking for the butterflies.
Isaiah was lucky to catch three, as Taylor said the cold summer was affecting the number of monarchs tagged. Last year, more than 500 volunteers tagged nearly 3,000 monarchs at the event, but Taylor said there would likely be a lot fewer tagged this year.
But neither the low tagging numbers, nor the event having to compete with a KU home football game, affected overall participation, he said.
Topeka resident and first time monarch-tagger Robin Budsky said that watching live butterflies easily trumped the excitement of Reesing and the Jayhawks' high-powered offense.
"That's what TiVo's for," Budsky said.
Copyright 2018 The Lawrence Journal-World. All rights reserved. This material may not be published, broadcast, rewritten or redistributed. We strive to uphold our values for every story published.