Photo Gallery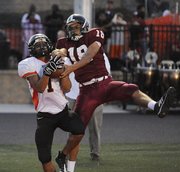 Shawnee Mission Northwest 34, Lawrence High 7
The Cougars coughed the ball up three times, yet none was costly in their 35-7 Sunflower League cruise over Lawrence High at the Lions' new stadium.
Who says mistakes kill football teams? Not Shawnee Mission Northwest. Not Friday night.
The Cougars coughed the ball up three times, yet none was costly in their 35-7 Sunflower League cruise over Lawrence High at the Lions' new stadium.
"The defense got us turnovers," Lawrence coach Dirk Wedd said, "and when you don't reward the defense, it gets hard."
Then again, it's also hard when your offensive line is injury-riddled and inexperienced. Five juniors started up front for the Lions, and nary a one lettered last year.
Nevertheless, in spite of the line's greenish hue, the Lions mustered 252 yards of offense, including 200 rushing, after compiling only 130 yards in last week's 28-7 loss at Shawnee Mission South.
One of those five juniors was Ben Seybert, who started at guard for the first time in his career. Seybert, who also plays defensive end, had to switch his jersey number from 45 to 54 so he could play on the offensive line.
Another first-time starter was Kevin Weiss at center.
"I felt those guys we put in there were nervous," senior end Taylor Coleman said, "but they played their hearts out."
Junior fullback-linebacker Darrin Sorem felt the same way.
"We were missing two major linemen, and two juniors stepped up," Sorem said, "and we had the best offensive drive we've had all year."
Sorem was referring to the Lions' lone scoring march, an 80-yard sustained drive after the second-half kickoff that featured a surprising 40-yard gallop by, yes, Sorem.
His jaunt was surprising because everybody, including the Cougars, thought he had been stopped after a gain of about five yards.
"The line did a good job of giving me five yards like they usually do," Sorem said. "I was moving forward, then I felt everybody let go. I looked up and it was wide open and took off."
Sorem was hauled down at the Cougars' 13. Four plays later, Tyrae Jenkins bolted over when the Lions had a first-and-goal on the one.
Early in the fourth quarter, the Lions were on SM Northwest's one-yard line again, facing a third-and-goal, but Jenkins was stuffed. Then on fourth-and-goal from the same spot, quarterback Chris Gaston tried a sneak and hit a brick wall.
Those back-to-back failures from the one — really more like the one-foot line — stuck in Wedd's craw in spite of his offensive line's inexperience.
"We've got to learn to take pride in knocking people off the ball," the Lions' coach said. "This group has to believe it can knock people off the ball. We've got to score when we get down there."
On two other occasions, the Lions were inside the Cougars' 10-yard line. On their second drive, they had first-and-goal on the seven when a botched handoff caused a turnover.
Minutes later, however, SM Northwest fumbled the ball right back. Unfortunately, quarterback Chris Gaston was intercepted in the end zone on the Lions' second play.
"The interception was my fault," Wedd said. "That was a bad call on my part."
On defense, the Lions (0-3) surrendered 446 yards with senior quarterback Matt Nowak accounting for 275 of those yards by throwing for 168 and rushing for 107 more.
"We don't play real good in space," Wedd said of his defense, "and No. 12 (Nowak) was a bad match-up for us."
The Lions, who played without four injured senior regulars, lost another senior on the penultimate play of the first half when Dom Reiske, a linebacker and back-up fullback who is also the long snapper, left with a leg injury and didn't return.
Wedd said he was uncertain whether Reiske will be able to return for next Friday's home game against Shawnee Mission East.
Copyright 2018 The Lawrence Journal-World. All rights reserved. This material may not be published, broadcast, rewritten or redistributed. We strive to uphold our values for every story published.