Photo Gallery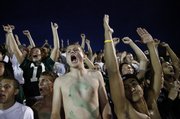 Free State 56, SM North 14
Firebirds christen stadium with 560 yards of offense
With hundreds of fans showing up early to tailgate, the sound system blaring rock music across the campus and the brand new Free State High football stadium buzzing with anticipation, the only thing missing from Friday's pregame atmosphere was the fireworks.
The Firebirds offense quickly took care of that, exploding for 42 first-half points en route to a 56-14 pasting of visiting Shawnee Mission North.
In all, Free State rolled up 560 yards of total offense, outdone only by the fact that its defense limited SM North to 163.
In a word, what the Firebirds unleashed on Friday night was domination. When it was all over, however, all anyone wanted to talk about was the unveiling of the shiny new field the Firebirds call home.
"How could I not play good when I'm playing at a place like this?" said senior tailback Kirk Resseguie, who paced the Free State attack with 193 yards and four touchdowns. "When I finally saw it finished, I almost cried. Every time I look at this place it's just unbelievable."
That's probably what the SMN defense thought about the Free State offense on Friday night. When Resseguie wasn't pounding away for tough yardage in the middle, senior quarterback Camren Torneden torched the Indians with his legs and his arm. One week after being only slightly effective through the air against SM East — and just two weeks removed from his four-interception night in the opener — Torneden was Todd Reesing on Friday night.
Through the air he hit on nine of 10 passes for 163 yards and a touchdown. On the ground, he ran 14 times for 75 yards and another touchdown. It wasn't his final statistics but his command and sound decision-making that stood out to those who know him best.
"He's making all the right decisions now and seems to be a lot more comfortable back there," said senior receiver Keene Niemack, who finished with 79 yards and one touchdown on four receptions. "He's not going to drop an 80-yard bomb on you, but he will put the ball in the right spots, and he will hit open receivers."
Added Free State coach Bob Lisher: "Tonight, we got exactly what we want out of Camren and exactly what we expect out of him. Hopefully, this was the start of something special still to come."
Friday's game wasn't all positive all the time. In fact, the Firebirds, who admitted to being a little too jacked up prior to kickoff, trailed 7-0 and 14-7 before taking charge.
North's first touchdown was set up by a Free State fumble on its first possession. Taking advantage of good field position, North scored on a one-yard run from Joe Haas to take a 7-0 lead. After Resseguie tied the score with a 30-yard TD run on the next series, North reclaimed the lead with a whacky kickoff return for a touchdown. After fielding the kick at the 15-yard line and advancing it to the 30, Will Maynard was hit and fumbled. Luke Lohmeyer became Johnny-on-the-spot and picked up the loose ball and rumbled the final 70 yards for the touchdown.
Not to be outdone, Niemack answered on the ensuing kickoff with an 80-yard touchdown return of his own, capping a three-minute stretch in which the two teams combined to score 28 points.
"Honestly, guys were starting to hang their heads a little after that start," Niemack said. "I think we were a little distracted with the home opener. But once we got that kick return, our offense woke up and took it from there."
With back-to-back convincing victories wiping the bad taste of opening-day defeat from of their mouths, the Firebirds (2-1) now shift their focus to fine-tuning the freight train. After turning the ball over five times in Week 1, Lisher asked his team to correct that in Week 2. They did by not turning the ball over once last week. After relying on the ground game to dominate SM East in Week 2, Lisher prodded his passing attack to find production this week. It did Friday night. At this rate, the Firebirds won't have anything to work on by the end of the season.
"That'd be nice," Lisher said.
Copyright 2017 The Lawrence Journal-World. All rights reserved. This material may not be published, broadcast, rewritten or redistributed. We strive to uphold our values for every story published.