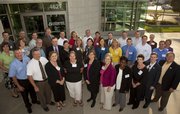 The Lawrence Chamber of Commerce has selected 35 people to participate in the 2010 Leadership Lawrence Program. The program helps develop skills in community service and leadership.
The new class was announced at a reception Thursday at Landmark National Bank, 4621 W. Sixth St.
Class members are Tammy Bennett, city of Lawrence Public Works; Mike Bourneuf, O'Malley Beverage of Kansas; Bill Bump, Lawrence Free Methodist Church; Kelly Calvert, The World Company; Jaye Cole, Kreider Rehabilitation Service; Jeanette Collier, East Central Kansas Economic Opportunity Corporation; Laurie Comstock, KU Endowment Association; Scott Criqui, Trinity In-Home Care; Christie Dobson, GaDuGi SafeCenter; Erika Dvorske, United Way of Douglas County; Brian Edie, American Family Insurance; Mike Gaughan, Douglas County Commission; Sharon Green, Lawrence Family Vision Clinic; Tim Herndon, Landplan Engineering P.A.; Mark Hummel, Lawrence-Douglas County Fire Medical; Jessie Kwatamdia, Douglas County Senior Services; Matt Lord, Landmark National Bank; Lori MacDonald, Adecco Employment Services; Scott McCullough, planning director for Lawrence and Douglas County; Karen McGrath, Sunflower Bank; Teresa Mulinazzi Kempf, Ameriprise Financial Services Inc.; Daniel Partridge, Lawrence-Douglas County Health Department; Emily Peterson, Callahan Creek; Carol Rau, Apple Tree Homes Inc.; Lori Reesor, Kansas University associate vice provost for student success; Mark Simpson, assistant Douglas County district attorney; Troy Sorensen, ICL Performance Products; Roger Steinbrock, Lawrence Parks and Recreation; Geoff Strole, KU Credit Union; Ryan Toner, Golf Course Superintendents Association of America; Denise Van Sickle, Lawrence Pet Friends LLC; Doug Woods, Douglas County Sheriff's Office; Scott Zaremba, Zarco 66 Inc.; Erika Zimmerman, Boys and Girls Club of Lawrence; and Jeremy Zimney, OrthoKansas.
Copyright 2018 The Lawrence Journal-World. All rights reserved. This material may not be published, broadcast, rewritten or redistributed. We strive to uphold our values for every story published.