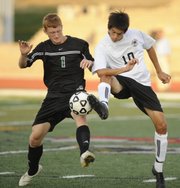 Unbeaten and unscored upon in its first two games, Free State High's boys soccer team is off to a roaring start.
Or is it?
"We're still a work in progress," coach Jason Pendleton said following Monday night's 2-0 victory over De Soto on the Firebirds' football field. "We also realize there are a lot of good teams out there."
Free State's two victories — the other was a season-opening 4-0 blanking of Bonner Springs on the road — have come against schools in lower KSHSAA classifications. Bonner is in Class 5A, De Soto in 4A. But at least one Firebird thinks classes are deceptive in boys soccer.
"I think some teams get overlooked because they're in a lower class," said Daniel Chance, a senior midfielder who scored one of the Firebirds' goals. "De Soto is a good team. They're better than some of the 6A teams we play. They're no Olathe East or (Olathe) South, but they're solid."
De Soto gave the Firebirds all they wanted early, but Free State, which hadn't played in 10 days, was pretty much in control the rest of the way.
"The long layoff wasn't good," Pendleton said. "The first 20 minutes, they were all over us. It took us awhile to sort it out, but then in the latter portion of the first half we started to control the tempo."
Chance broke a scoreless deadlock 51⁄2 minutes into the second half with an unassisted goal from about 15 yards in front of the net. About 20 minutes later, junior Diego Gonzalez supplied the clincher with some nifty footwork and a shot from about the same distance after taking an inbounds pass from Chance.
"It helps when a couple of guys score big goals," Pendleton said.
It's no secret Chance and Gonzalez are the Firebirds' most talented offensive players, and Pendleton has challenged the D&D; duo.
Daniel and Diego have to step up and play like big-time players for us to be able to beat good teams," Pendleton said.
With a roster top-heavy with seniors, the Firebirds have high expectations.
"It's a great feeling to be playing with the same guys for the last three or four years," Chance said. "With 11 seniors, we're putting a lot into this year."
After 10 days without a game, the Firebirds have three scheduled this week. They'll be at Leavenworth tonight, then back home Thursday night to tangle with Olathe Northwest.
Free State's new artificial-turfed soccer field is ready. In fact, the JV game was played there Monday afternoon. But a problem with the lights necessitated moving the varsity game over to the football field. Athletic department officials said they hoped the lighting problem at the soccer field would be corrected by Thursday so the Firebirds can play their first game at the refurbished facility.
Copyright 2018 The Lawrence Journal-World. All rights reserved. This material may not be published, broadcast, rewritten or redistributed. We strive to uphold our values for every story published.