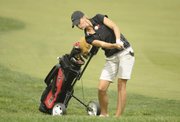 A quick survey of Lawrence High and Free State High girls golfers Monday revealed one thing: The course at Lawrence Country Club is tough.
On the whole, Monday's Free State Invitational was one to forget for the home teams.
In addition to having just one golfer — Free State senior Grace Brahler with a 95 — break the century mark and tying for 11th out of 17 teams, many Lions and Firebirds struggled to smile at the end of a long, tough day.
But a look beyond the "You don't have to put my score in the paper, do you?" comments uncovered a few sweet stories hidden in the rough.
Take LHS sophomore Payton Covert, for instance. Last winter, after a rough first year with the LHS golf team, Covert "Googled" herself on the Internet just to see what popped up. The first link on the list of possible matches was a story about the LHS golf team's struggles, complete with the fact that, at that particular tournament, Covert shot a whopping 140.
So ashamed of the high score was Covert that she spent the entire summer working on her game.
She sank putts late into the night, chipped until her arms grew tired and hit shot after shot at any driving range that would have her.
The result? Monday, Covert shot the low score for LHS, a 105 at the challenging LCC course.
"I was embarrassed by that," said Covert of the Google incident. "And it really motivated me to improve."
During the best round of her life — her previous low was a 112 — Covert's putting was strong, her decisions sound and her risk-taking minimal, all necessary ingredients for a good score at an unfamiliar course.
Free State's Alyson Butler experienced similar success. Her 106 was the best score of her life, but it didn't come without a few hiccups along the way.
"I'm really happy that I shot my personal best, but the course still beat me on a few holes," Butler said.
Bethany Cobbs (119) and Emma Groene (123) rounded out the Free State scorecard, while Leslie Queen (108), Kathryn Lunte (114), Taylor Covert (114) and Kristy Gerrard (120) completed the Lions' list.
According to FSHS coach Craig Hershiser and LHS coach Mike Lewis, entering the tourney with the understanding that tough times were ahead was critical to producing a good round. Some did.
"I'm just glad that's over," Lunte said. "I don't plan on shooting a score like that again. I think it'll all be better from here on out."
That was exactly what the coaches were going for when they scheduled the tournament.
"Going into the season, I knew we needed to challenge ourselves more," Hershiser said. "I didn't want us to get to a difficult course later in the season and be intimidated by the venue. After today, that shouldn't be in our minds any more."
Added Brahler: "I'm really happy that I kind of made it through it. Eighteen holes at LCC is a long way to go."
Lions or Firebirds, low 100s or higher, Monday's tournament, which also served as the first leg of the two-round Sunflower League tourney, was about much more than what it said on the golfers' bags or read on the scorecard.
"If you can walk away knowing you competed and knowing that you enjoyed the opportunity to play a great course on a beautiful day, then I think that's a success," Lewis said.
Copyright 2018 The Lawrence Journal-World. All rights reserved. This material may not be published, broadcast, rewritten or redistributed. We strive to uphold our values for every story published.