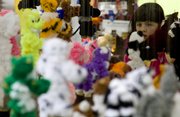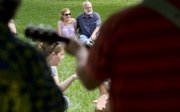 Offering everything from jewelry to picture frames, live music to hot food and cool drinks, the 30th annual Fall Arts and Crafts Festival filled South Park on Sunday afternoon with vendors and shoppers alike.
While the economy was a concern for organizers, the festival didn't seem to be affected.
"That was one of the things we were really worried about, the participation," said Duane Peterson, special events supervisor for Lawrence Parks and Recreation. "We're about the same size we were last year. We sold about 168 spaces."
The festival atmosphere is a big draw for both sellers and buyers, Peterson said. Kids can get balloon animals, adults can listen to local bands and anyone can buy just about anything they can think of in the arts and crafts category.
While the event draws heavily on local participants, this year it attracted people from Texas to California.
"(People) come through this area this time of year, in the fall, and it's just one of the many stops they make here in Lawrence," Peterson said. "Lawrence is a very good venue obviously because it's an artsy community."
The Parks and Recreation Department organizes the event every year.
Copyright 2018 The Lawrence Journal-World. All rights reserved. This material may not be published, broadcast, rewritten or redistributed. We strive to uphold our values for every story published.