Lend a hand today
Anyone wanting to volunteer as part of the Day of Action through the Roger Hill Volunteer Center can still do so at a cleanup event from noon to 2 p.m. today at the Prairie Park Nature Center, 2730 Harper St. Families are also welcome at the event, said Paige Blair, an AmeriCorps member for the volunteer center. More information is also available at www.rhvc.org.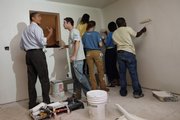 Sarah Stern saw plenty of smiling faces in the hallway of Pioneer Ridge Retirement Community.
She was one of dozens of volunteers who gave helping hands around Lawrence Friday as part of the Day of Action, organized by the Roger Hill Volunteer Center.
"I really like working with people, so I really wanted to come here today and do that," said the Kansas University freshman.
Lawrence's first Day of Action continues from noon to 2 p.m. Saturday when families and other volunteers will clean up at the Prairie Park Nature Center, 2730 Harper St. The volunteering event coincided with the national United We Serve initiative, pushed by First Lady Michelle Obama as a memorial to the attacks of Sept. 11, 2001.
"We wanted to emphasize that service is a very patriotic thing to do and just a really positive thing for communities," said Paige Blair, an AmeriCorps member who organized the Lawrence event along with Emily Hampton, an AmeriCorps VISTA member.
Blair said by the end of Saturday's event about 100 people in Lawrence will have participated and helped at various sites. Stern and a few other volunteers put up fall leaves outside the rooms of Pioneer Ridge residents. They also participated with residents in a physical therapy session.
"Especially for young people and students, it's good to show that we really take an interest in our community and that we really want to be a part of it," Stern said. "So this is my way of giving back to all of the wonderful things that Lawrence has to offer me."
Volunteers also spent time Friday helping at the Habitat ReStore, 708 Conn., with the Tenants to Homeowners site, 1120 R.I., and the Hidden Valley Camp in west Lawrence.
Blair said organizers got the idea for the volunteer day when they heard the first lady speak at a conference in San Francisco.
"We didn't feel like we could come back and not plan something to pay tribute to that and to be part of a national effort," Blair said.
Copyright 2018 The Lawrence Journal-World. All rights reserved. This material may not be published, broadcast, rewritten or redistributed. We strive to uphold our values for every story published.