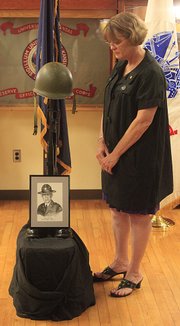 Platoon Sgt. Glenn E. Nicholson was remembered Thursday as a good leader, a warrior and someone who always watched your back.
Forty-one years after Nicholson was killed while serving in Vietnam, a ceremony honored the memory of the former Kansas University ROTC instructor.
Judith Dietz, one of Nicholson's eight children, helped plan the ceremony with Army Lt. Col. John Basso, a KU military science professor.
Dietz and other family members wiped away tears as officers who served with Nicholson, a tank commander, recalled tales of his service.
"It's phenomenal," Dietz said. "I'm just speechless. Not only were the troops treated badly coming back from Vietnam, but the family members were treated badly because everybody was ashamed of Vietnam."
She said the ceremony confirmed that the soldiers in Vietnam were heroes, too.
Retired Army Capt. Lou Reymann served as Nicholson's company commander the day that he was killed. His booming voice filled the large room on the top floor of KU's Military Science building as he recalled his fellow soldier.
Reymann told the ROTC cadets gathered about the time Nicholson took him on a long walk when he first arrived in Vietnam as a new second lieutenant. Reymann thought Nicholson was going to tell him about problem soldiers in the group that he had to keep an eye on.
"He told me if I didn't do anything stupid, he'd get me home in one piece," Reymann said.
Though small in stature, Reymann said Nicholson was a great soldier and a good man.
"He was great at being able to communicate just the right thing at just the right time without saying a word," Reymann said.
He called on the cadets, many of whom soon will serve overseas, to always trust their noncommissioned officers.
"The good ones have your back," he said.
Reymann traveled from Maryland to take part in the ceremony, and another of Nicholson's commanding officers, retired Maj. Gen. Kent Hillhouse, traveled from California.
Dietz and Hillhouse unveiled a plaque commemorating Nicholson's service that will hang in the Military Science building.
Clayton Wilson, a cadet who witnessed the ceremony, said it was good to take time to recognize the roles enlisted personnel and sergeants played.
"It's the backbone of the Army," he said.
Copyright 2018 The Lawrence Journal-World. All rights reserved. This material may not be published, broadcast, rewritten or redistributed. We strive to uphold our values for every story published.