Interested in Madécasse?
Find the chocolate and vanilla products at The Community Mercantile, 901 S. Iowa; Au Marche, 931 Mass.; and Hy-Vee, 4000 W. Sixth St.
The company's vanilla is also used in baked goods at WheatFields Bakery, 904 Vt., and The Community Mercantile.
For more information about the company and its products, go to www.madecasse.com.
-->
-->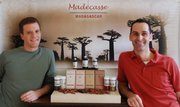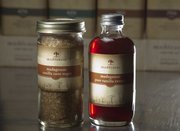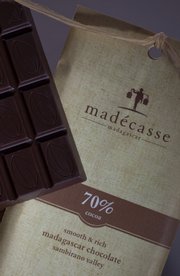 Most anyone who dabbles in food will tell you that good ingredients are the foundation for good food.
Brett Beach had found what he believes are some of the best ingredients in the world. He'd also found a people in dire need of jobs and aid.
It didn't take long for the Lawrence High School graduate to put two and two together and help those people with those ingredients.
The sum is Madécasse (pronounced mah-DAY-cas), artisanal foods made in Madagascar. Emphasis on the "in."
"It's flipping the colonial model over, in the sense that we're not just looking at the raw materials," says Beach, whose company borrows its name from a word used in the 16th and 17th centuries for Madagascar. "We're ... trying to do the whole thing in the country."
Beach and his business partner, Tim McCollum, met while in the Peace Corps working in the African island nation. Years later, they decided to take their love of the country and their skills as businessmen to set up a corporation that could use the cocoa beans and vanilla produced there. Plenty of businesses export vanilla and cocoa out of Madagascar, but no premium, internationally sold chocolate products are made there.
"We want to have a great product, but we also want to help Madagascar because it's one of the poorest countries in the world, but they have some of the best raw materials," Beach says. "And so by making it in the country, we're able to contribute, keep, four times more profit with the people than if we just exported their cocoa."
That benefit was fully realized in fall 2008, when the first batch of Madécasse chocolate was exported out of the country to stores across the United States, including places like Au Marche, 931 Mass., where owner Lora Wiley jumped on the chance to carry the bars, which cost between $5 and $7 each.
"It's a little bit pricier, but we have found that not only does it taste good but it appeals to our customers who are really interested in supporting free trade, that quality to the chocolate is really popular to a number of our customers," Wiley says.
Today, the bars are in 120 stores worldwide and come in four varieties — 63, 67, 70 and 75 percent chocolate. The company, which is based with Beach and McCollum in New York, also sells vanilla extract and beans to groceries and restaurants, including WheatFields, 904 Vt., and black peppercorns.
When Beach and McCollum were reaching out to locations across the country, Beach was eager to contact stores in his old hometown. Growing up in Baldwin City, he moved to Lawrence as a teen and graduated from LHS in 1993. He went to college in California, at Loyola Marymount and went into teaching before joining the Peace Corps in 1999. Though he finished his tour with the organization in 2001, Beach decided to stay in Madagascar, working for the U.S. Embassy and later a seaweed plantation, feeling a strong connection with the place and the people.
"When I left, I wanted to keep a connection to Madagascar and in a meaningful way, because I think I was really fortunate to have many jobs that were really looking to help Madagascar," Beach says. "Whether it be Peace Corps or small grants from the U.S. government or democracy and governance, and even the seaweed project really was great because the people kept a lot of value of the products in what they got paid to produce it. So I definitely wanted to keep that positive connection — the Peace Corps spirit but take it a little further."
That connection has led to Madécasse supporting 33 people in Madagascar on a full-time basis by making chocolate that has depth of flavor as unique as the company's social mission. It's something that Beach believes excites people, no matter where they are in the world.
Count Beach's sister, Zoe, director of the Phoenix Gallery, 919 Mass., as inspired by the company's mission.
"I thought it was a very exciting and noble idea. I knew how much the Malagasy people meant to Brett during his time in Madagascar, and for him to be able to give back this way is inspiring," Zoe Beach says. "It's so encouraging to see how the social mission of a company like Madécasse can really bring about change. So much of what they do gives back to the local economy that they really are able to make a difference."
Copyright 2017 The Lawrence Journal-World. All rights reserved. This material may not be published, broadcast, rewritten or redistributed. We strive to uphold our values for every story published.