Photo Gallery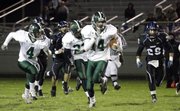 Free State football 35, Olathe Northwest 14
Olathe — No one ever expected Free State High's mercurial, high-octane offense to play smash-mouth football.
Until Friday night.
The Firebirds eschewed their big-play persona and ground out a 35-14 victory over Olathe Northwest at College Boulevard Activities Center.
"We knew they'd come out hyped because they'd never been district champions," Free State's Keene Niemack said of the Ravens. "So we had to hit 'em in the mouth and show 'em we're here."
Did the Firebirds ever. On their first possession, they chewed up 75 yards on 12 plays. Then on their second possession, the Firebirds used 13 plays to gobble 95 yards.
Early in the second quarter, Free State had run 25 plays — 23 on the ground — to the Ravens' three. Free State had 12 first downs, O-Northwest none.
"The game plan wasn't to run like that," Free State coach Bob Lisher said. "We wanted the ball first, but we were going against the wind so we didn't throw much."
O-Northwest never recovered from those two early time-consuming touchdown haymakers.
Free State's third touchdown occurred 75 seconds before the half and featured the Firebirds' longest play of the night — a 35-yard pass from Camren Torneden to tight end Louis Bateman.
O-Northwest finally scored on a 92-yard kickoff return by Cullen Phillips with exactly a minute before the break, but Niemack neutralized that score moments later with an 83-yard kickoff return of his own.
"Camren led me through the hole," Niemack said of his second kickoff-return TD of the season, "gave me a bear hug, and I took off."
Niemack and Torneden are the Firebirds' deep backs on punts.
Niemack, who had scored on an eight-yard pass from Torneden earlier in the quarter, concluded his three-TD night with a 16-yard run in the fourth quarter while playing tailback.
Normally a wide receiver, the 5-foot-10, 165-pound senior carried the ball for only the second time this season while subbing for a winded Kirk Resseguie, who carried 26 times for 185 yards.
"We had planned to use that a little last week," Lisher said of Niemack lining up in the backfield, "but we fumbled it."
Speaking of fumbles, the Firebirds coughed the ball up three times Friday night and Torneden also threw an interception and those weren't, Lisher stressed, the only negatives.
The Firebirds' coach wasn't pleased the Ravens were able to with just 15 seconds remaining on a 33-yard pass play.
"Us not finishing drives and that last TD," Lisher said. "That's not the way we wanted to end the game."
Still, the way the Firebirds dominated was impressive. They ran 62 offensive plays, 50 on the ground, to the Ravens' 47 and accumulated a whopping 28 first downs to just seven for O-Northwest.
And the Firebirds didn't have to punt for the second week in a row.
"We got five yards here and five yards there," Torneden said. "It was just what worked. It was efficient tonight."
By winning the district, the Firebirds (7-2) are assured of a home game in the first round of the Class 6A playoffs next Friday night.
Quite likely, they'll be facing the Olathe East team that clipped them, 29-20, in the season opener. That game was at CBAC, too.
Copyright 2018 The Lawrence Journal-World. All rights reserved. This material may not be published, broadcast, rewritten or redistributed. We strive to uphold our values for every story published.