Douglas County H1N1 updates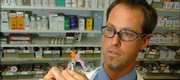 An outbreak of H1N1 Swine Flu was reported in Mexico in April 2009. By the end of May, it had spread across the U.S., with all 50 states reporting cases.
The Lawrence-Douglas County Health Department's second H1N1 immunization clinic on Wednesday afternoon was described by volunteers as "smoother, faster, less stressful and quieter" than the first one held a week earlier.
"We learned some lessons and made some adjustments," said Lisa Horn, spokeswoman.
The department had 16 people giving vaccinations — twice as many as the week before — and added 23 more volunteers. It also gave the vaccine to a more limited segment of the "priority group" population.
"You don't feel as pressured to hurry, hurry, hurry," said Catherine Bird, a registered nurse who gave vaccinations at both clinics. "You get to chat with the kids a little bit and not have 15 people looking at you — 'like hurry up.' People are calmer, in a better mood and aren't as frustrated."
About 200 people had lined up to receive the vaccination when the clinic opened at 2 p.m. at the Douglas County 4-H Fairgrounds, but by 4:30 p.m. there was no line. From 4:30 p.m. until the clinic closed at 6 p.m., people just trickled in.
"We obviously could have seen more people," Director Dan Partridge said. "I would rather have had the vaccine in somebody's arm."
It's a guessing game in determining how many people will attend the vaccination clinics, and so far, Partridge said he hasn't had much luck. Last week, the department had to turn away people at 5 p.m. because of the long line.
"You just never know what to expect," he said.
Horn said about 1,300 doses were provided Wednesday, which would be 200 less than the previous week.
Lawrence resident Jenny Hohman decided to take her son Jonas, 1, and daughter Jaylie, 3, to the clinic after hearing from friends who have children suffering from swine flu.
"They said that they wish they could have gotten the shot, and they would have stood in line for a couple of hours if that would have prevented them from what they are dealing with right now," she said. "We decided it would be a benefit for our kids."
Partridge said tentative plans call for H1N1 immunization clinics in Eudora and Baldwin City next week. The department plans to release more details today.
Copyright 2018 The Lawrence Journal-World. All rights reserved. This material may not be published, broadcast, rewritten or redistributed. We strive to uphold our values for every story published.