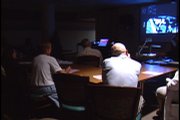 Free mammograms
Free mammograms
Lawrence Memorial Hospital's Breast Center offers free mammograms to patients who cannot afford them.
The hospital and physicians work with Health Care Access and the Leo Center — both clinics that help the underinsured and uninsured in Douglas County — to provide mammogram certificates to people who qualify.
Early Detection Works, a federally funded program, and the LMH Endowment Association provide financial support.
In 2008, the Breast Center performed 9,751 mammograms.
For more information, contact the center at 505-3300.
Just over a year ago, 48-year-old Lawrence resident Lisa Flanders felt a really sharp pain in her left breast.
"It was like as if someone took a knife and just stabbed me," she said.
The pain soon subsided and the tenderness went away in a few days. Flanders said she didn't give it another thought, especially since she had already scheduled her annual mammogram — a birthday gift she gives to herself — for Nov. 4.
She said her birthday, which is Oct. 14, and October being National Breast Cancer Awareness Month remind her to make the appointment.
Four days after the mammogram — on a Saturday — she received a letter that said she needed to redo the mammogram on her left side.
Flanders and her husband, Brent, decided to go ahead and make a trip Monday to Golden, Colo., to support their son Colin, 21, who was trying out for the soccer team at the Colorado School of Mines. By the time, they got off the plane in Colorado, Flanders had received numerous phone messages from nurses, asking her to call immediately.
"Now, I am a little freaked out, but I didn't want to be freaked out because I was there for my kid," she said. She also has another son, Camron, 25.
Flanders made a phone call and a mammogram was scheduled for 7:45 a.m. Thursday, the day after she returned to Lawrence. Doctors found a spot about the size of a pea that had exploded.
They asked whether she wanted a female or male surgeon.
"I told them, 'I don't care. I want the best and that's what I want," she said.
A week later, Dr. Cheryl Rice performed a biopsy, a procedure that entails removing cells and tissue for examination.
"I knew when she did the biopsy that it was cancer," Flanders said. "It was the look on her face when she saw it."
Coordinated care
Flanders was given options: a lumpectomy and radiation, or a mastectomy. Doctors said the chances of reoccurrence would be about the same — 12 percent in 20 years.
Before those options were presented to Flanders, her case was discussed during a weekly Multidisciplinary Tumor Conference at Lawrence Memorial Hospital. Since 2004, the conference has brought together about 15 Lawrence health care professionals who care for cancer patients. The group includes surgeons, radiologists, oncologists, social workers, plastic surgeons, pharmacists and clinical trial nurses.
Each Monday, they meet and discuss every new breast cancer case as well as other cancers. In 2008, 101 breast cancer cases were diagnosed at LMH.
"We are all working with the common goal of saving these patients' lives," said Dr. Darren Klish, radiation oncologist at Lawrence Cancer Center. "We can sort of challenge each other or question why we are making a recommendation."
Dr. Sharon Soule, a hematologist and oncologist at LMH's Oncology Center, said the conference helps coordinate care for each patient, which is important when so many doctors are involved in each case and there are so many treatment options available. Those options are continually expanding.
"It saves a lot of phone calls and a lot of trying to track each other down to talk about patients, and it gives me more opinions about what we are doing and more confidence in what we are doing," she said.
Flanders' doctors included Rice, Klish, Soule and Dr. Lisa Pazdernik, an obstetrician/gynecologist.
Flanders said she never had to worry about scheduling an appointment after the initial mammogram.
"It's scary enough finding out that it's actually cancer," she said. "I think not having to worry about all of the other details — trying to schedule appointments, knowing who to go to, and which one works well with the surgeon — was much easier."
Fighting cancer
Flanders chose to have a lumpectomy followed by radiation treatments.
"But, if she (the surgeon) went in there and found anything else, she could take as much as she needed," Flanders said. "She thought she would take about the size of a golf ball, but when she got in there she found another tumor next to the one that we knew about, and so she ended up taking the size of about an orange to get it all."
Flanders said the outpatient surgery on Dec. 5 lasted about three hours and she was home by dinnertime. A week later, she learned she had ductal carcinoma in situ, a common type of noninvasive breast cancer.
After Christmas, Flanders underwent 33 radiation treatments. She had to go every weekday — Monday through Friday — for about six weeks.
"You lay on a bed and they put tattoos on you — little dots to where they have to make the machine hit it every time," she said. "You lay there and you are exposed. This machine kind of makes this clicking noise and it travels over the top of you and it travels back.
"It's scary at first because it's the total unknown."
Flanders described her treatments as quick and painless with minimal side effects.
Soule said that the radiation treatments were not offered in Lawrence just six and a half years ago when she started working at LMH. Patients used to have to go to Topeka or Kansas City and the treatments would pretty much consume their lives during those six weeks. She said the service is important for quality of life.
"There are patients in western Kansas who are making decisions about the type of surgery because they can't get to radiation, so they have mastectomies. It definitely affects their treatment," Soule said.
After radiation, Flanders began taking tamoxifen, which helps block breast cancer growth. She will take the daily medication for about five years.
Staying positive
Today, Flanders — who has no history of breast cancer in her family — says she is "doing really well."
I've always tried not to let this get out of hand in my mind," she said. "I feel great and I just take it one day at a time."
Her next mammogram will be Nov. 12.
"I think once I have a full mammogram again and I know my right side is OK, I think I will, not breathe a sigh of relief because I still have a long way to go, but I think I will feel a little bit relieved."
She laughed and said the nurse originally asked if she could come on Friday, Nov. 13, for the mammogram.
"I said, 'I just can't do that.' I am not even superstitious, but I can't even go down that path."
Copyright 2018 The Lawrence Journal-World. All rights reserved. This material may not be published, broadcast, rewritten or redistributed. We strive to uphold our values for every story published.