Free State coach Bob Lisher talks about his team's fast start in the Firebirds' 42-14 victory over LHS
Photo Gallery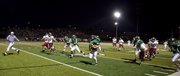 2009 LHS-Free State football
-->
Final statistics, courtesy Chuck Woodling.
INDIVIDUAL STATISTICS
RUSHING
LHS: Tyrae Jenkins 22-106, Billy Chanthalangsy 11-67, Chris Gaston 6-20, Corey Kincheloe 10-16, Darrin Sorem 4-6.
FS: Camren Torneden 6-170, Kirk Resseguie 12-96, Dylan Perry 2-15, Cody Oller 2-11, Shawn Knighton 1-2, Sam Callan 1-1, Keene Niemack 1-1.
PASSING
LHS: Chris Gaston 0-1-0 (one intercepted).
FS: Camren Torneden 3-4-86, Dylan Perry 0-1-0.
RECEIVING
LHS: None.
FS: Keene Niemack 2-69, Audre Allen 1-17.
PUNTING
LHS: Anthony Buffalomeat 3-32.7.
FS: None.
FINAL: FSHS defeats LHS, 42-14
After picking up a pair of first downs, Free State is able to run out the clock.
The Firebirds pick up their fourth straight victory in the crosstown football series.
Check back to LJWorld.com later for more coverage of the City Showdown, including final statistics.
FSHS 42, LHS 14 — 3:07 left in 4th quarter
A long drive, moved along effectively by numerous runs by Chanthalangsy, ends with a turnover for LHS. On an option left, Gaston's pitched is tipped by FSHS's Cody Oller, and the Firebirds fall on it.
Because of the long LHS drives, Free State will take over possession for just the second time this half.
FSHS 42, LHS 14 — 2:16 left in 3rd quarter
LHS takes nearly 10 minutes off the clock in its opening drive of the second half, but the drive stalls near midfield. Some nice runs in there by Billy Chanthalangsy, the 5-foot-6, 155-pound junior who started at nose guard for the Lions.
Halftime Statistics, courtesy our friends at 6sports
LHS rushing yards — 119
Free State rushing yards — 233
LHS passing yards — 0
Free State passing yards — 86
Torneden 5 carries, 162 rushing yards; 86 yards passing, 3 rushing TDs, 1 passing TD
FSHS 42, LHS 14 — Halftime
Following an LHS punt, Free State moves the ball well in a two-minute situation, with help from a 40-yard run down the sideline by Resseguie.
Though the Firebirds coaches have all three timeouts remaining, they choose not to pile on up by four scores already. FSHS drives inside the LHS 20, but the clock runs out after a short run by Torneden.
The score at halftime remains 42-14.
FSHS 42, LHS 14 — 6:25 left in 2nd quarter
A gamble goes bad for LHS, as a surprise onside kick attempt is recovered by Free State.
Torneden comes through with his third one-play drive, running 52 yards untouched up the middle for his third TD.
How crazy is this? Free State has 10 offensive plays and 42 points.
FSHS 35, LHS 14 — 6:36 left in 2nd quarter
Give credit to the Lions, who despite being down four scores put together their second TD drive.
Buffalomeat set up the drive with a long kickoff return to the FSHS 41.
LHS moved the rest of the yards on the ground, with Jenkins posting the 1-yard touchdown run. Right now, the Lions are having great success running to the right side.
FSHS 35, LHS 7 — 11:07 left in 2nd quarter
Third and 14? No problem for FSHS.
Torneden delivered a superb deep ball to Keene Niemack, who caught it after getting a step behind LHS defensive back Christopher Gaston. As a last ditch effort, Gaston grabbed hold of Niemack's jersey, but Niemack ripped himself away from the defender's grasp and finished off the 65-yard TD reception.
FSHS 28, LHS 7 — 9.6 seconds left in 1st quarter
The Lions take full advantage of the turnover, driving in for their first points.
Jenkins picked up a pair of crucial third-down runs, then finished the possession by putting his head down and bulling his way in for a 1-yard TD run.
Anthony Rosen adds the extra point for LHS.
FSHS 28, LHS 0 — 4:34 left in 1st quarter
LHS is forced to punt after three offensive plays, but the Lions come up with their biggest play so far. Anthony Buffalomeat delivers a long punt, and Torneden has a fair catch bounce off his hands. LHS's Darrin Soren falls on the football, and the Lions take over inside the FSHS 40.
FSHS 28, LHS 0 — 8:12 left in 1st quarter
Make it turnovers on three straight offensive plays for LHS, as Preston Schenck picks off a deep pass from Christopher Gaston. Schenck, who also had a forced fumble earlier today, returned the interception 28 yards to the LHS 27.
Torneden needs just one play to extend Free State's lead, scampering 27 yards around the right side for a TD.
The Firebirds are averaging more than a touchdown a minute so far.
FSHS 21, LHS 0 — 8:49 left in 1st quarter
LHS is having problems stopping the negative momentum.
The Lions fumble the snap on their next offensive play, and the Firebirds fall on it. That's two straight lost fumbles for LHS. Lions coach Dirk Wedd calls timeout and gathers his entire team around to talk to everyone.
Kirk Resseguie carries the load for FSHS, picking up 12 yards on third-and-10 and 13 yards on the next play. He also finishes the drive with a 1-yard leap over the pile for a TD.
FSHS 14, LHS 0 — 10:39 left in 1st quarter
Just 81 seconds in, Free State has already taken a commanding lead.
On the LHS's second play offensively, the Lions' Tyrae Jenkins made a nice spin move on a run to pick up yardage. Unfortunately for LHS, Jenkins fumbled late in the run, and FSHS's Matt Cole scooped it up and returned it 35 yards for a TD.
FSHS 7, LHS 0 — 11:39 left in 1st quarter
Wow, what a start for Free State.
On the first play from scrimmage, Camren Torneden took an option-right play himself, racing through a hole and sprinting 72 yards down the sideline for a touchdown.
Gabe Ballard-Hanson added the extra point, and just 21 seconds in, the Firebirds have a 7-0 lead.
6:30 p.m.: By Matt Tait
More than an hour and a half before kickoff, the parking lot at Free State High was beyond half full.
Students played catch between cars, coals in portable grills fired up hot dogs and hamburgers and cars continued to make a steady stream into the parking lot, all in anticipation of tonight's City Showdown football contest between the Lawrence High Lions (0-7) and the Free State Firebirds (5-2).
Tonight's game — 7 p.m. kickoff — will be the first meeting in the 13-year history between the two schools that will be played on campus. In the past, LHS and Free State always have waged war at Haskell Stadium — or occasionally at KU's Memorial Stadium — but in the offseason, on-campus stadiums were added to each school, giving us the chance to see tonight's scene at Free State's beautiful new venue.
The pregame buzz is as electric as ever, as both sides are slowly filling with rabid fans, many of whom dressed for the occasion — all red and black on the LHS sideline and mean green for the home Firebirds.
Both teams first took the field at five minutes past 6 p.m. LHS is warming up at the north end of the field while a handful of Firebirds are warming up near the south end zone.
The Lions will go with red pants, white jerseys and their classic black helmets for tonight's game. The Firebirds will go with white pants, green jerseys and green helmets.
As the clock kicks down to kickoff on the field, the sun is setting behind the stadium. It really is an awesome site and all signs point to an enjoyable evening of high school football.
As for the game itself, on paper, this one looks to be the biggest mismatch in series history. The Lions enter the game winless in seven tries, reeling from last week's 49-6 loss at Olathe Northwest.
The Firebirds, meanwhile enter at 5-2 and on the heels of last week's 55-0 whitewash of Leavenworth in the District opener.
Despite the lopsided match-up in terms of records and statistics, this game means a lot for both teams.
For Free State, which advanced to the Class 6A state title game a season ago, a win tonight would move the Firebirds one step closer to a home playoff game in the first round in two weeks.
For the Lions, a victory tonight would erase seven weeks worth of struggles and give LHS hope of advancing to the postseason.
The overall series is tied at 6 wins apiece, making tonight's contest a rubber match of sorts — at least for the next year.
The gametime temperature is expected to be 44 degrees and it looks like tonight's game will be played under mostly clear skies in a light wind from the south.
Kickoff is now less than 30 minutes away.
6:18 p.m.: By Jesse Newell
Welcome back to the Newell Post Live, coming to you from Free State Stadium where the Free State Firebirds are getting set to take on the Lawrence Lions in the annual City Showdown.
We'll get to Journal-World high school sports editor Matt Tait's preview of the game in a little bit, but for now, I posted the two teams' starting lineup video we posted earlier this week. You can find it on the left side of this page. In the video, players from both teams introduce themselves in an entertaining way, giving props to a previous school they attended or a previous youth-league team they played for. It's definitely worth a look if you haven't seen it yet.
Copyright 2018 The Lawrence Journal-World. All rights reserved. This material may not be published, broadcast, rewritten or redistributed. We strive to uphold our values for every story published.