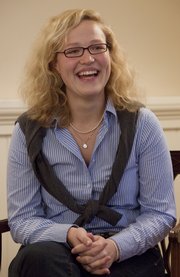 An internship swap program between Lawrence and its German sister city may be expanding in years to come.
Stefanie Blunck, a mechanical engineering student who lives near Lawrence's sister city of Eutin, Germany, is in Lawrence participating in the current program.
She's participated in internships at PEC Engineering and Berry Plastics in Lawrence, in addition to auditing mechanical engineering courses at Kansas University.
Jim Morrison, a KU lecturer in business and German, said the two cities have been exchanging interns in areas such as business and engineering for the past dozen years, with good results.
"We're trying to up the intensity of the internships on both sides," he said.
He said he intended to work with local Rotary clubs and other organizations to try to identify people to participate in the program, which may expand to other fields in coming years, including journalism and the arts, he said.
Blunck said she's seen a lot of differences and a lot of similarities here — there are many more women getting into the field of engineering in the United States than in Germany, she noted.
Also, German life tends to be a little more structured than life in the United States, she said.
She's had a positive experience in the United States, she said, and would recommend it to her friends. She said she enjoys both cultures.
"I would try to live my life in Germany a little bit like this life," Blunck said. "American people are a little bit more open."
Copyright 2017 The Lawrence Journal-World. All rights reserved. This material may not be published, broadcast, rewritten or redistributed. We strive to uphold our values for every story published.