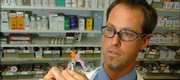 An outbreak of H1N1 Swine Flu was reported in Mexico in April 2009. By the end of May, it had spread across the U.S., with all 50 states reporting cases.
A 62-year-old northeast Kansas man has become the ninth person to die from the swine flu virus in Kansas.
The Kansas Department of Health and Environment said the man had underlying health conditions that put him at greater risk for serious complications from the virus.
No swine flu deaths have occurred in Douglas County, but several have been in the region, including Johnson County.
"This death reminds us that this virus can be extremely severe for people with underlying health conditions," said Dr. Jason Eberhart-Phillips, state health officer.
Lawrence Memorial Hospital Vice President Jeff Novorr said Wednesday that since Aug. 23, two people have been hospitalized at LMH with confirmed cases of swine flu.
Besides the two hospitalizations, he said seven people had been hospitalized with swine flu symptoms, but the cases were not confirmed.
The national Advisory Committee on Immunization Practices has recommended that certain people who are at greater risk from swine flu receive the vaccine earlier than others, because of limited supplies of the vaccine.
People who should receive the vaccine first are pregnant women, people who live with or care for children younger than 6 months of age, health care and emergency medical services personnel, persons 6 months through 24 years of age, and people 25 through 64 years of age who are at higher risk for H1N1 flu because of chronic health disorders or compromised immune systems.
On Wednesday afternoon, Lawrence-Douglas County Health Department was the first in the state to offer a community immunization clinic. It provided 1,360 doses of vaccine.
Meanwhile, LMH received 500 doses of the vaccine and will begin offering them this morning to staff who are in direct contact with patients.
The next vaccination clinics will be at Douglas County 4-H Fairgrounds, 2120 Harper St.:
• 2 p.m. to 6 p.m. Wednesday.
• 4 p.m. to 8 p.m. Thursday.
• 9 a.m. to 1 p.m. Oct. 31.
The health department will provide the vaccine at no cost.
Kansas University will conduct immunization clinics for students, staff, faculty and retirees from 10 a.m. to 2 p.m. Fridays from Nov. 6 through Dec. 4, except Thanksgiving Day weekend. The clinics will move around. Here's the schedule: Nov. 6, Mrs. E's cafeteria in Lewis Hall; Nov. 13, Kansas Union ballroom; Nov. 20, Ambler Student Recreation Fitness Center; and Dec. 4, Kansas Union Ballroom.
For more information or to download a vaccine consent form, visit the health department's Web site at ldchealth.org
Copyright 2018 The Lawrence Journal-World. All rights reserved. This material may not be published, broadcast, rewritten or redistributed. We strive to uphold our values for every story published.