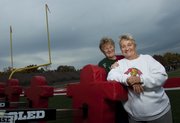 If Lawrence High School's playing football, it's a sure bet that sisters Mary Jo Elston and Imogene Kilgore will be in the stands.
The Lawrence women have been game-night regulars for more than 50 years. And since fall 1957, the two have missed just a handful of games and even witnessed 20 state titles.
"We've been a few places," Elston said. "We are always yelling at someone. We're yelling at the coaches, mostly."
The sisters tell stories of watching football in Derby, Manhattan, Ottawa, Junction City and many other places.
Weather's not a concern for these two. Rain, snow or sleet, they're known to stick out every game — even the "Ice Bowl" in the early 1960s.
"Highland Park and Lawrence High," Kilgore said, setting the scene. "They were beating Lawrence High, 20-0, at half and some of the assistant coaches drove all the way back here to the high school, got the boys' tennis shoes and they took them back up there and beat them, 21-20. It was played on ice.
"I've been to one that was probably 20-below, when we played out at Haskell. We've been in blackouts when the power has gone out and we were sitting in the dark."
Their dedication to local athletics is second-to-none. For them, the emphasis is on local — and they truly believe there should be no animosity between LHS and Free State.
"We went to high school here, but we go to Free State's (games) when they have one," Kilgore said. "It's just another Lawrence school, no conflict."
The two haven't said whom they will cheer for tonight as LHS and FSHS play on Free State's new field. But one thing's certain: They'll sit on the 50-yard line about 20 rows up, behind the Chesty Lions' bench.
Copyright 2018 The Lawrence Journal-World. All rights reserved. This material may not be published, broadcast, rewritten or redistributed. We strive to uphold our values for every story published.