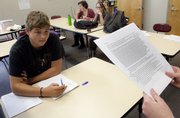 Nearly 38 million people watched President Barack Obama's inaugural address in January — the most since Ronald Reagan's inauguration. More than 50 million watched his first address to Congress.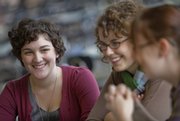 Many people, including local high school students, think he is one of the most engaging and motivating speakers of his time. What attracts youths to Obama and other motivational speakers?
Simone Hinojosa, a member of the Free State High School debate team, says great speakers are people who can engage their listeners and make their audiences interested in what they have to say.
Other members of the Free State debate team say the ability to articulate arguments effectively and truthfully, a confidence and belief in what they are saying and a sense of humor all play important roles in persuasive speaking.
"A really good thing is to make jokes, because if you make your audience laugh, you loosen them up them up to inform them and get them thinking," says senior Lydia Picking.
Free State debate coach Jo Ball says three other attributes are key to an effective speaker: audience analysis, a passion and energy for what they are saying and the ability to make eye contact.
"A good speaker, when they're speaking to a large group, has mastered how to make everybody in the audience feel like they are making one-on-one contact with the speaker," Ball says.
While students say they view Barack Obama as an engaging, persuasive speaker, they also mention former president Bill Clinton, characters from films such as "Pulp Fiction," and media figures such as Anderson Cooper, Wolf Blitzer and Glenn Beck.
Though the debate students look up to these speakers, they know they do not face the same situations or audiences.
"I don't necessarily pretend I'm Barack Obama, because I think Obama himself has weaknesses in public speaking," senior Kelsey Cherland says. "It's just trying to be aware of your personal weaknesses and looking at others who don't have those weaknesses."
For example, Cherland says she has paid attention to how Obama uses hand placement and motions to convey a message, a self-proclaimed weakness in her speaking.
"The best thing is to watch the public speeches because you can see what you like and what you don't like," Picking says.
Sam Walter says he has no intention to say anything as profound as speakers like Obama. Instead, he tries to make the listeners feel comfortable.
"I try to go for something that makes people feel at ease, because if you can get people to like you, you can get pretty much whatever you want as long as it's not anything too ridiculous," Walter says.
Instead of telling students who to act like, Ball focused more on who not to emulate.
"(Students) should not listen to individuals who cannot get through five sentences without using the word 'like,'" Ball says. "They should not listen to 'ahs' and 'ums' and horrible delivery."
Ball also says most people in public office and many in the media can speak well in public. It's a matter of whether they are saying anything of significance or just pretty words with no meaning.
"Kids will come in and say, 'So-and-so, he was really interesting to listen to.' But if so-and-so doesn't say anything of value, what's the point?" Ball says.
Copyright 2018 The Lawrence Journal-World. All rights reserved. This material may not be published, broadcast, rewritten or redistributed. We strive to uphold our values for every story published.