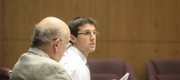 More coverage of the trial of a former Kansas University student accused of beating and kidnapping his ex-girlfriend.
Related document

Jaeger - Motion for New Trial ( .PDF )
Attorneys for a former Kansas University student say their client deserves a new trial on kidnapping and aggravated battery charges because of juror misconduct.
But the attorneys' argument for a new trial for Matthew P. Jaeger, 24, is complicated.
The attorneys say that because Shaun Edmondson — a juror who believed their client was innocent — was dismissed, he didn't have the chance to sway other jurors to his way of thinking or hold onto his beliefs and create a hung jury.
"There is certainly evidence from which to conclude that the eleven had decided to shove (Edmondson) 'out of the boat,'" defense attorney Pedro Irigonegaray wrote in his motion.
On Aug. 13, the jury convicted Jaeger of kidnapping, aggravated battery and making a criminal threat. Prosecutors said Jaeger broke into the Lawrence apartment of his ex-girlfriend, Francie Biggs, 23, on Oct. 9, 2007, and threatened Dylan Jones, the man she was with that night. Biggs spoke out after the verdict and agreed to be named by the Journal-World.
She testified that Jaeger choked her unconscious and said she awoke with injuries to her external vaginal area. The defense argued that Jaeger found Biggs injured and was trying to get her to the hospital. They said scientific evidence pointed to Biggs injuring herself with a fall onto a bed rail.
Juror misconduct
Douglas County District Judge Robert Fairchild dismissed Edmondson during the second day of deliberations because he re-enacted a material fact of the case. A female alternate juror took his place, and the next day jurors returned with the guilty verdicts on three counts.
In his motion for a new trial, Irigonegaray said Edmondson told fellow jurors he re-enacted Biggs' falling onto a bed rail. He told jurors on the first day of deliberations that his test had nothing to do with his belief at the conclusion of the trial that Jaeger was not guilty on all counts.
Irigonegaray wrote that in an Aug. 19 phone conversation after the verdict Edmondson spoke with defense counsel and said he had conducted his own investigation in the evening after the first day of deliberations ended. He had also told other jurors that he was 100 percent set in his belief that Jaeger was not guilty, but the other jurors wanted to review the evidence in the case before making their own decisions.
Irigonegaray and co-counsel Michael Saken argue that Edmondson told the other jurors of his experiment during the second day of deliberations. But the presiding juror, Diane L. Miller, did not inform Fairchild that Edmondson conducted his own investigation until the third day of deliberations, suggesting "that the eleven found a way to resolve the deadlock."
"Had he not been dismissed, Edmondson could possibly have brought his fellow members of the jury to the same conclusion or, more likely, created a hung jury," Irigonegaray wrote. "But by virtue of his misconduct, he deprived (the) defendant of a dissenting voice in his deliberations, by giving the other jurors reason to report his misconduct and the court motive to remove him."
In the motion, Irigonegaray also asks Fairchild to order an evidentiary hearing in the case, which would allow the defense to subpoena Edmondson to testify about the events.
Edmondson did not return a call seeking comment on Thursday. A message was not returned at a phone number listed for Miller.
Other objections
Irigonegaray also argues that Fairchild should grant a new trial because of the cumulative effect of several errors during the trial.
He said prosecutors presented insufficient evidence for Jaeger to be convicted of kidnapping and aggravated battery of Biggs and making a criminal threat against Jones.
The defense also says Fairchild did not allow the defense to question Biggs about possible drug use that night and restricted defense questions about her credibility.
Jurors were improperly allowed to hear evidence that Jaeger had previously choked Biggs during their relationship, Irigonegaray said. The defense argues the marks on her neck that night are inconsistent with a rear choke hold.
Jurors did not convict Jaeger of the more serious aggravated kidnapping charge he faced, and they also failed to reach a verdict on aggravated burglary. Jaeger is in custody in the Douglas County Jail, and he faces at least four years in prison.
Fairchild has scheduled Jaeger's sentencing hearing for Jan. 25 and will rule on the motion for the new trial before handing down a sentence.
Copyright 2018 The Lawrence Journal-World. All rights reserved. This material may not be published, broadcast, rewritten or redistributed. We strive to uphold our values for every story published.