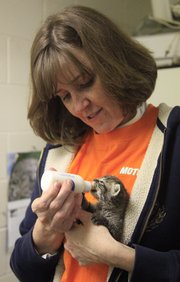 The Lawrence Humane Society had about 20 extra helpers on Wednesday who got "down and dirty," as Midge Grinstead put it.
Grinstead, the Humane Society's executive director, used several employees from Lawrence's local Motorola office as volunteers.
"You can't ask for anything better when a group of people want to come and help you," Grinstead said.
The workers offered their helping hands and green thumbs as part of Motorola's International Day of Service. Volunteers planted two new trees and new mums.
"Every year Motorola chooses half a day for its employees worldwide to do community service," said Jason Rogers, the company's engineering and site manager in Lawrence. "They really encourage all the local offices to find a local community service that we can perform that has kind of a green theme to it."
In addition to working outside, the volunteers walked and bathed dogs and played with cats.
Right now, however, the Humane Society's intake of animals is up while adoptions are down. Therefore, Grinstead said any help was appreciated.
"I never get anybody that wants to do anything other than just walk dogs or pet the cats," Grinstead said, "so when you have a group that's willing to just dive in and help you, it means everything to us."
Copyright 2018 The Lawrence Journal-World. All rights reserved. This material may not be published, broadcast, rewritten or redistributed. We strive to uphold our values for every story published.