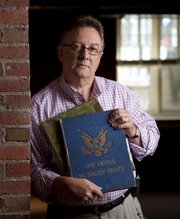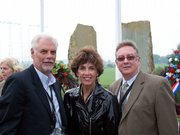 My father was a hero, but I didn't fully understand his valor until I joined my brother and sister in the Netherlands last month for the 65th anniversary of Operation Market Garden.
On Sept. 17, 1944, the largest airborne invasion in history was begun to help secure a bridgehead across the Rhine and make it possible for the Allied armies to advance north, and turn in to the lowlands of Germany and end World War II by Christmas 1944.
Unfortunately, the overall plan didn't work because of a failure to capture and hold the bridge at a place called Arnhem, a bridge too far, where the 1st British Airborne Division had to be evacuated when armored and other support units failed to reach them in time. Though Holland had been liberated, the war would not be over by Christmas.
For my father and his comrades in the 504th Parachute Infantry Regiment, 82nd Airborne Division — the "Devils in Baggy Pants" — the goal was to capture and secure two bridges across the Mass-Waal Canal.
Their heroism became the stuff of lore when they crossed the Waal River in flimsy canvas boats under heavy enemy fire (think Robert Redford in the movie "A Bridge Too Far") and met all of their objectives, including the liberation of Nijmegen, Netherlands.
Writing about the moment, my father, Lt. William D. Mandle, described the suicidal daylight crossing. "Direct fire from German 88s, flak wagons, 20mm cannon, machine guns and enemy riflemen splattered on all sides; fountains of water caused by exploding shells filled the air; men slumped in boats; some were blown into the river, but those remaining, with rifles, helmets, and even their hands, paddled furiously for the opposite shore. Many boats were sunk, while the occupants of those which safely reached the other side were so exhausted by the effort in the maneuvering of the craft in the river's swift current that some were nauseous to the point of vomiting."
My father was in the first wave across, and if he had done nothing else during the war, he proved his mettle.
Reconnecting with past
I didn't know what to expect when I left my home in Lecompton for the celebration, but I was hopeful I might somehow reconnect with a man who died too young at age 41 after a battle with cancer. My father left behind great memories, friends and admirers, a loving wife, three precocious children and boxes of photos, correspondence and commendations from the war.
My brother, Steve Mandle, my sister, Shannon Mandle-Ozbun, and I had been discussing the trip for months after rediscovering our father's World War II memorabilia in my garage, where my wife, Terry, had stored it.
We catalogued photos and correspondence by country and theater of operation. My brother, recently retired, went about the business of trying to find surviving 504th vets. His efforts led him to people and organizations dedicated to keeping history alive. And it was through these contacts we were invited to be a part of the Market Garden commemoration.
Two things immediately stood out when I arrived — the veterans of Market Garden and the Dutch people.
The vets we were with ranged in age from 82 to 93. Some walked with the help of a cane, another leaned on the arm of his grandson, while others still had a spring in their step. Memories might have faded a bit, but minds were sharp. And while none knew my father directly, they were keenly aware he had been with them on the mission.
One of those vets, Lt. Roy Hanna, 93, summed up the reason for his return to the Netherlands.
"The operation certainly wasn't our first combat experience; far from it," he said. "But in many ways it defined who we were and why we were there, which was to defeat an enemy and help liberate people from the tyranny of Nazism."
Hanna didn't talk a lot about himself — few did — and spent most of the trip reminiscing about others and their exploits.
Lt. Col. James Megellas, 92, had a slightly different perspective.
"It's difficult to explain combat, where men are being horrifically killed and wounded, to someone who wasn't there or hasn't been through the experience," he said. "I came back to honor the brave men buried here."
Heartfelt tributes
Celebrating their liberation from a cruel Nazi occupation is something the Dutch embrace, and paying homage to American, British, Canadian, Polish and French veterans of Market Garden is reverent and emotional.
My brother, sister and I were amazed at the outpouring of emotion given to the paratroopers. I saw people sobbing and reaching out to embrace them. Children offered gifts of flowers and read poems of thanks.
A Dutchman named Hans, whose parents had served in the Dutch Underground, told me had it not been for the Americans and their allies, his world would be a much darker place. I heard other similar stories.
Our trip included visits to Arnhem, the Den Heuvel Woods, Nijmegen and Eindhoven. We saw the remnants of foxholes, parachute drop re-enactments, parades, once-bloodied fields and places of great tactical importance.
I had managed to keep my emotions in check for most of the trip, but on Sept. 20, we were special guests at the commemorative Waal River crossing. Six members of the 504th again crossed the wide river — this time not under fire and in boats powered by motors instead of their rifle butts — and arrived safely on the other side.
There were speeches by Gen. David Petraeus, commander of U.S. Central Command, the mayor of Nijmegen, veterans and schoolchildren. In Nijmegen, more than 40,000 people greeted the veterans, as did Queen Beatrix of the Netherlands.
I cried a bit myself that day. I was proud to be the son of a good, brave man and wished aloud he could have been there with us, to see and experience the genuine love of another nation.
My father wrote the book "The Devils in Baggy Pants," and in it two words — "Strike. Hold." — still ring true.
They struck, captured and held the bridges, and 65 years later the men of the 504th and other fighting units still hold the hearts of a grateful people.
They hold my heart, too.
Copyright 2018 The Lawrence Journal-World. All rights reserved. This material may not be published, broadcast, rewritten or redistributed. We strive to uphold our values for every story published.