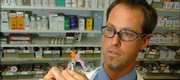 An outbreak of H1N1 Swine Flu was reported in Mexico in April 2009. By the end of May, it had spread across the U.S., with all 50 states reporting cases.
As the Lawrence-Douglas County Health Department prepares for its first community swine flu vaccination clinic on Oct. 21, it reminds the public the supply will be limited — at first.
That's why it's important that only people who fall into the priority group get vaccinated first.
Kim Ens, a registered nurse and preparedness coordinator, said these people most likely would suffer complications if they got swine flu:
• Pregnant women.
• People between 6 months and 24 years. Children younger than 10 will need to get two shots at least four weeks apart.
• People who live with or care for children younger than 6 months. That's because these children are too young to get the vaccine. That priority group doesn't include extended family, Ens said, but does include parents and day-care providers.
• Health care and emergency services personnel. Ens strongly encourages only workers who are in direct contact with acutely ill people to get vaccinated first. "Eventually, we want all health care providers — even the people working in the cafeteria and housekeepers — to get the vaccine, but right now, we have limited vaccine."
• People age 25 through 64 who have health conditions associated with higher risk of medical complications from the flu, such as: lung cancer, asthma, hepatitis, cirrhosis, kidney disease, heart disease, leukemia, multiple sclerosis and diabetes. "It's hard to lump into categories because some people with MS are leading healthy lifestyles. ... There are very healthy diabetics who are very well maintained," she said.
She said if people have been hospitalized within the past year or see a health care provider often, they likely would fit into the priority group.
Ens said eventually, there will be enough vaccine for everyone who wants one and she encourages them to do so.
"Vaccination is the No. 1 way people can reduce their risk of getting the virus," she said.
Copyright 2018 The Lawrence Journal-World. All rights reserved. This material may not be published, broadcast, rewritten or redistributed. We strive to uphold our values for every story published.