Photo Gallery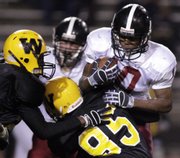 LHS vs. SMS October 10, 2009
LHS vs. SMS October 10, 2009
Overland Park — The Lawrence High offense sure would have frustrated its share of fantasy football owners Friday night.
Because of that, an 0-6 start is now very much a reality for the Lions, who dropped their sixth straight game, 31-0, to Shawnee Mission West at SM South District Stadium.
LHS managed just 104 yards of total offense, including a bone-chilling 62 yards rushing on 31 carries. Senior tailback Tyrae Jenkins rushed 21 times and somehow managed to grind out 49 yards.
Junior quarterback Chris Gaston was 3-of-8 for 42 yards through the air — decent numbers by LHS standards — but also threw two interceptions and missed on a couple of deep balls.
Outside of that, none of the six other Lions who touched the ball on offense did much to set the stat column on fire. Heck, this time out the Lions barely managed to generate a spark.
"We didn't do anything on offense to help our defense tonight," LHS coach Dirk Wedd said. "And that really hurt us. Shawnee Mission West is very physical. For the last five or six years, we've had a lot of trouble with them up front. And tonight, we couldn't knock 'em off the ball."
Unlike last week, when the Lions jumped to a 15-0 lead against Olathe South, thanks largely to an 11-minute first-quarter drive, there was no impressive opening this time out. In fact, there weren't many LHS drives that impressed anyone on the LHS sideline.
On the Lions' opening possession, Jenkins carried twice for five yards, but the the drive stalled abruptly when Gaston tossed an interception on the third offensive play of the night.
Rolling to his right, Gaston tried to drop the ball behind the SMW linebackers, but West's Adam LeBlanc — remember that name — picked off the pass and set the Vikings up with a first-and-10 at the LHS 28. Seven players later, LeBlanc scored from four yards out, and West led, 7-0.
The two teams traded field position for much of the next 20 minutes, and the stout LHS defense kept the Lions in the game.
The Vikings gained the upper hand late in the second quarter with a 15-play, 80-yard drive that was capped by a three-yard plunge from LeBlanc.
In all, LeBlanc scored three times Friday night, adding a 33-yard TD reception in the second half on one of the few big plays the LHS defense surrendered.
"I was proud of the guys tonight," said LHS lineman Ben Muiller, the lone senior starter on the Lions' defense. "They played hard on every snap and gave it all they had. It's just tough to play defense when you're out there all night."
Most of the night, Muiller was joined by five juniors and five sophomores, perhaps the only bright spot for a team reeling from yet another loss.
"The young guys are making the plays they have to make," second-year starter Darrin Sorem said. "We hung in there on every play and every down, and we hit everybody we could."
The Vikings finished the night with 286 yards of total offense, including just 88 in the first half. But ultimately their size and efficiency — the Vikings converted on fourth down four different times and tallied 13 first downs — simply wore LHS down and sent the Lions to the buses aching over their latest loss.
"It's hurt ever since 0-1," Muiller said. "And it's getting harder and harder. But we haven't given up. District's next, and now everybody starts and 0-0. The next three weeks are all that matter."
Copyright 2018 The Lawrence Journal-World. All rights reserved. This material may not be published, broadcast, rewritten or redistributed. We strive to uphold our values for every story published.