Photo Gallery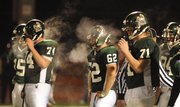 Free State football vs. Olathe North
Free State football vs. Olathe North
Olathe North left little doubt.
"We didn't play our greatest game," Free State football coach Bob Lisher said, "but they're pretty good."
Pretty good?
On second thought, Lisher said: "They're a great team. They have no weaknesses."
Well, the unbeaten Eagles did miss a couple of conversion kicks. Otherwise, Olathe North dominated the Firebirds, winning 38-20 on Friday night at the Free State field.
Oh, and O-North didn't complete a pass. Then again, quarterback David Blazevic threw just once. Why throw when all you have to do is hand the ball to James Franklin?
Looking like the best Franklin since Ben, the Eagles' 5-foot-7, 176-pound human pinball carried the ball 31 times for 296 yards and scored four touchdowns.
"He breaks tackles," Lisher said of Franklin. "He did that all night."
Franklin certainly earned the respect of the Firebirds, who hadn't faced a running back that talented all season.
"You think you have him wrapped up," defensive end Michael Lisher said, "then you look up and he's still running."
Echoed linebacker Keene Niemack: "There were a couple of times when I was right there and I grabbed at some jersey. It takes more than one guy to bring him down."
And from linebacker Kirk Resseguie: "There were times I thought I had him, and he squirted out."
Franklin wasted little time flashing his ability. On the Eagles' fourth play, he busted off tackle, shed a couple of defenders and raced into the end zone on a 60-yard run.
That would be Franklin's longest run of the night — he had a nonscoring 56-yarder in the fourth quarter — and it set the tone. Clearly, the Eagles were eager to avenge last year's 10-6 loss to the Firebirds in the Class 6A state playoffs.
"I think we came out flat, a little intimidated … soft," Niemack said. "We weren't playing smart. Pretty much everything we did was wrong."
Indeed, not long after Franklin's 60-yard TD gallop, the Firebirds gave O-North a short field on back-to-back possessions.
First, quarterback Camren Torneden threw an interception, and the Eagles needed to traverse just 20 yards to score. Then Resseguie inadvertently touched a knee to the turf while bending to field a punt snap, and that gaffe enabled the Eagles to set up shop on the Firebirds' 13.
When the first quarter ended, O-North owned a commanding 19-0 lead.
"But after they got those 19 points," Michael Lisher said, "we started playing better."
Although meaningless, the Firebirds did outscore O-North, 6-0, in the second quarter and 7-6 in the third. But, in the final analysis, this one boiled down to the Eagles' ability to run and to stop the run.
Free State's usually potent 1-2 ground punch of Torneden and Resseguie simply couldn't come untracked.
Resseguie, who rushed for 201 yards against SM Northwest last week, settled for 30 yards on eight carries. Torneden, who had 152 yards against the Cougars, managed just 20 yards on 15 totes.
Eight — or more than half — of Torneden's carries went for negative yardage.
On the plus side, Torneden tossed a couple of nifty scoring passes to Aundre Allen — a 10-yarder just before halftime and a 22-yard strike seconds before the third quarter ended.
Down 38-13 late, the Firebirds struck for the final time, using a flea-flicker lateral pass from Torneden to Chandler Schmidt, who tossed a 49-yard TD aerial to Connor Stremel.
"We have to put this one out of our heads," Michael Lisher said, "and get ready for district."
The Firebirds (4-2) will begin district play Friday at home against Leavenworth.
Copyright 2018 The Lawrence Journal-World. All rights reserved. This material may not be published, broadcast, rewritten or redistributed. We strive to uphold our values for every story published.