On the street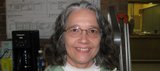 I would like to see the Amtrak depot incorporate the theme of arts and the environment.
A quarter of a century after moving into the neighborhood, Aaron Blosser stepped inside the Burlington Northern Santa Fe rail depot and liked what he saw.
As momentum builds for restoring and updating the 1950s-era station, he's hopeful that the transportation hub can chug along for decades to come.
"It's a building that's worth saving, and it needs energy put into it," said Blosser, who lives five blocks away. "If it just stays an empty building, it won't last another 10 years, but if people put energy into it, it'll be here for our kids' kids."
Blosser was among more than two dozen visitors Thursday to drop by the depot, the subject of a $25,000 study to determine its restoration needs and future enhancement possibilities.
Hernly Associates Inc., an architecture and design firm conducting the study, plans to forward its results to Lawrence city commissioners in December.
Already certain to be in the report will be basic upgrades — including replacement roofing, updated bathrooms and reconditioned aluminum doors — necessary both to keep the structure functioning as an Amtrak station and to accommodate additional uses that could come along in the future, architect Stan Hernly said.
All without disrupting the structure's historic feel.
"It still has original furniture," Hernly said. "It's like a little time capsule. Part of what we're doing is trying to keep that time capsule feel while bringing it up to modern standards."
City commissioners are interested in acquiring the building, 713 E. Seventh St., from Burlington Northern Santa Fe Railway. Amtrak already has set aside money to make some upgrades at the site.
Additional uses suggested during a previous meeting included accommodating a wintertime farmers market, adding a 24-hour diner and providing an observation post for watching bald eagles.
Among other ideas that surfaced Thursday: adding displays depicting the history of the BNSF station and the Union Pacific Depot in North Lawrence; developing the area north of the station; and providing an area for bus transportation.
Copyright 2018 The Lawrence Journal-World. All rights reserved. This material may not be published, broadcast, rewritten or redistributed. We strive to uphold our values for every story published.