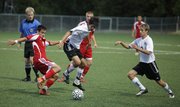 Jason Pendleton wasn't doing cartwheels Monday night.
Even though Free State High's boys soccer team had just thumped long-time nemesis Shawnee Heights, 6-1, coach Pendleton voiced a legitimate concern.
"This team," Pendleton said, "hasn't handled prosperity very well."
Indeed the Firebirds haven't. Both of their losses — to Shawnee Mission South and SM West — came on the heels of emotional wins over crosstown rival Lawrence High and defending Sunflower League champion SM Northwest.
"We kind of laid an egg both times," Pendleton said. "We hope to remedy that this week."
The Firebirds are scheduled to meet SM North, a second-division league team, today in Overland Park, then play host to powerhouse Olathe South on Thursday.
On the surface, Monday's match with Shawnee Heights loomed as little more than a tune-up for this week's key league outings, but that wasn't the case, not considering the T-Birds had won the last three meetings, all by shutouts.
Toss in the fact their last game was that 1-0 loss at SM West — their only shutout defeat, incidentally — and the Firebirds were pumped on their home field.
"We finished last week not so good," senior Daniel Chance said, "and we wanted to get back on a positive note."
Chance broke a scoreless deadlock with a goal in front of the net off a feed from Diego Gonzalez after about 13 1⁄2 minutes. Thirteen minutes later, Preston Newsome nailed a header for a 2-0 lead and that's the way the score stayed through the break.
Less than eight minutes had elapsed in the second half when Shawnee Heights' Johnny Acker cut the Firebirds' lead in half. But the T-Birds' momentum ended less than two minutes later when a Heights player accidentally headed a Free State indirect free kick into his own net.
Shawnee Heights (4-7) never recovered. During the last 30 minutes, the Firebirds tacked on a second goal by Chance — a laser from 25 yards out — and one each from sophomores Hunter Pierce and Zach Thompson.
Now boasting an 8-2 record, the Firebirds have to show they can maintain the intensity today against an SM North team that took them into overtime last season.
Chance believes he and his teammates have learned a lesson from their two defeats.
"We're not very good," he said, "when we go in thinking we're going to win."
Copyright 2018 The Lawrence Journal-World. All rights reserved. This material may not be published, broadcast, rewritten or redistributed. We strive to uphold our values for every story published.